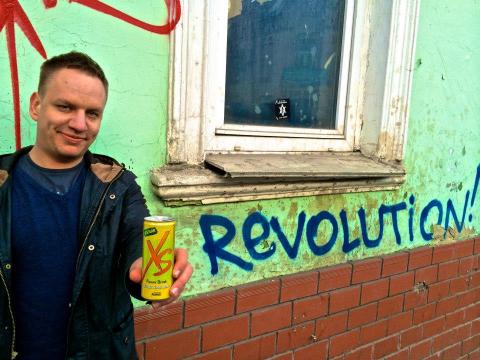 "In dealing with poverty here and around the world; welfare and foreign aid are a Band-Aid. Free enterprise is a cure."
– Bono of U2
Intending it as a compliment, a friend described my work in in Kiev last weekend as "selling sodas in Ukraine."
He's right. I was in the embattled city to represent a company I helped co-found and our Southern California energy drink brand in meetings with more than 10,000 Ukrainian independent business owners.
It was as simple as that and also so much more.
Like Bono, I believe free enterprise is a cure for all sorts of poverty — economic, political, and spiritual.
Not long before my business partners and I arrived in Kiev, two of the independent business owners we had hoped to be working with were killed during the Maidan revolution when snipers opened fire on protestors who were demanding that (now former) President Viktor Yanukovych listen to the people of Ukraine and not outside interests.
"It takes great courage for these people to come from across the Ukraine to meet this weekend," said Oxana, the woman who helped organize and run the event I spoke at in Kiev.
They came because they wanted to choose for themselves. They wanted to freely assemble around an economic opportunity and exercise an inalienable right that we take for granted in the United States.
When I spoke to the brave Ukrainians assembled in Kiev, I quoted a phrase from Thomas Jefferson inscribed on the little porcelain dish that sits on my desk at home in California. It says, "A little rebellion now and then is a good thing."
When I bought it, I thought it was funny and kind of cute. I don't think that anymore.
I've always gotten into a bit of trouble for being a rebel. But Maidan Square, even today in its cleaned-up, post-revolutionary state, is anything but cute. And the troubles in Crimea with Russian troops posing as citizen revolutionaries aren't even remotely funny.
Revolution is chaos. It's dirty. People get injured and people die. Revolution is necessary when a government does not respond to its people and when a government forgets that the people give them the right to govern in the first place.
But more important than the revolution itself is what follows.
Will revolutionaries live to seize power and enrich themselves at the expense of the people they govern? Or will they create a machinery of freedom for all supported by a moral fabric that enhances humanity?
As I walked through Kiev, stepping carefully along demolished sidewalks, where bricks are stacked as weapons and glass bottles are organized for Molotov grenades behind massive heaps of whatever-was-available for barricades, it was obvious that rebellion is ugly.
Rebellion is vital to the defense of freedom. And it is costly. The expense of Ukraine's rebellion was paid through the spilling of real human blood and the sacrifice of life. Some of those who paid the ultimate price for freedom in Kiev were our partners.
Around the globe, our business model is simple: We offer both a unique brand and beverage (ours was the first global energy brand to be sugar-free, to offer a spectrum of flavors, great taste, and mega-doses of B-vitamins), and, more importantly, the opportunity to build a business with us and help us share the positive energy.
If you've been raised in a good family with a healthy sense of self, ego, and self-control, the idea that you can choose the life you want — that you can create and shape the world you want to live in rather than one that is handed to you by fate or outsiders — isn't revolutionary.
If you know that and act on it, you're already living a life of liberty and abundance.
And yet many of us — even people living in developed countries with unlimited options and potential — are slaves to what is offered.
Self-actualization starts by getting control of your life at the most basic levels. For many people, simply realizing that they can make decisions rather than have them made for them is a personal revolution. Moving out of bondage and into a life of freedom transforms animals into humans.
Wealth at any level in the hierarchy of human needs is based on choice.
People choose basic things such as homes and cars and food at an economic level. We choose whom we want to associate, where we travel, and how we govern ourselves at a political level. As we develop more wealth than we need to survive, we can become generous and decide how we share our resources at home and around the world.
Ultimately, we can reflect on our relationship to the universe. How we relate to things that are beyond the material world, and our faith or lack thereof, defines our spirituality. To me, that is the highest form of self-actualization.
My business partners and I had been working for more than a year to launch our energy drinks in Ukraine and expand the opportunity to own small businesses to thousands of people who were willing to choose for themselves. We believe that people are children of God, that there is a transcendent, metaphysical reason why each person matters.
It's not our job to tell people what they ought to believe. It's our job to fuel their dreams and help them reach their goals.
Twice last weekend I had the opportunity to speak to crowds of more than 5,000 Ukrainians.
"I don't know a lot about Ukrainian politics, and the current troubles are complicated," I told them. "The one thing that I do know is that the group that should decide what's right for Ukraine is Ukrainians. It's not up to Americans or Europeans or Russians to decide the future of this country. The right to self determination resides with the people of a place."
Last Sunday marked the 200th birthday for Taras Shevchenko, a celebrated Ukrainian poet and statesman whose renown reached far beyond the borders of his homeland. In fact, a statue of Shevchenko resides in Washington, D.C.'s DuPont Circle with an excerpt from his poem, The Caucasus, which reads:
"Our soul shall never perish
Freedom knows no dying,
And the greedy cannot harvest
Fields where seas are lying;
Cannot bind the spirit
Nor the living word,
Cannot smirch the sacred glory
Of th' almighty lord."
Freedom is an idea and ideas have consequences. The application of freedom is about offering people choices. And ultimately, freedom is about helping people realize that they may choose how they associate economically, socially, politically, and spiritually
For some people, selling sodas (or energy drinks) is a first, simple step toward self-actualization. That's what I was doing in Ukraine.
David Vanderveen is a husband by marriage, a father by birth, a surfer by vocation, and an energy drink entrepreneur. He is the editor of Rob Bell's book, The Love Wins Companion: A Guide for Those Who Want to Go Deeper.
[view:Media=block_1]