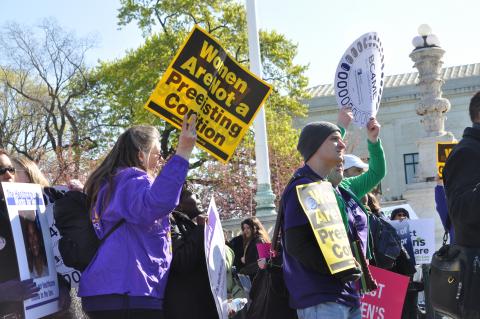 People lined the steps of the Supreme Court once again today, asking for their voices to be heard on the ongoing healthcare debate. Justices on Monday began their three-day review of President Barack Obama's 2010 Affordable Care Act, which would require U.S. citizens to purchase health insurance or face a penalty.
Thousands gathered starting on Friday for a ticket inside for oral arguments and to stand outside the court in protest, both for and against the plan.
Nanah Fofanah and Corinne Vigen traveled from Richmond Virginia Commonwealth University, where they both are students.
"As students, young people, and Obama supporters, we're in full support of this--for access to women's health care, for seniors, for all families," Vigen said.
Tea Party activists and others opposing the measure were on hand as well to voice their concerns.
"Our constitutional rights are being abused by this administration. Go back to the constitution, what our fathers wrote up for our country," said Audrey Glover, member of the South Tier Tea Party from Kirkwood, NY. "… We're losing our freedom every day."
Joshua Witchger is an online assistant at Sojourners. Read more from Joshua on his blog hail fellow well met. Parker Haaga is a Circulation Assistant at Sojourners.