Jim wrote a piece a few weeks back about the new Bonhoeffer-quoting Aussie PM Kevin Rudd. Well, another fun fact is that he has appointed Peter Garrett, rock star turned environmental activist turned Member of Parliament, his new Minister for Environment. That's the Aussie version of putting Bono in charge of the foreign aid budget. Sort of.
If any of our non-Aussie readers know Garrett, it's likely as the singer for Midnight Oil, whose best known album was Diesel and Dust, with the hit single "Beds Are Burning" in 1988. They made many great albums since then, finally breaking up in 2002 when Garret chose to focus on politics. Knowing his music work much better than his political career-having seen the Oils live numerous times over the years-I'm curious if any readers from Down Under have comments on how his political role has changed his activism.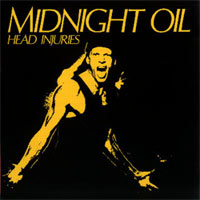 Either way, I'll continue to remember him as the lanky, frenzied, six-foot-six screaming skeleton whose music helped to inspire my own activism. Also, he's a church-going Christian, which doesn't necessarily make him a better politician, though I do think it made him a better rock star, as his faith-infused lyrics-which railed against environmental degradation, militarism, and consumerism-were an early and unlikely witness to my budding integration of faith and politics.

Though I discovered them while a freshman in high school in the early 90s, the first Midnight Oil album I bought was their 1985 release, Red Sails in the Sunset, which I found in the used rack at my local music store. This snippet from "Who Can Stand in the Way" is a great one for the Christmas season:



Now choppers strafe the supermaket sky and people wonder why
chopping down tons of trees got seas of print not a soul can read say
Why do I drown you build brick boxes one by one now they block my sun
But it's metal on metal it's the dance of T.V.
If Christ were here he'd camera check he'd cry so loud the planes would stop
He'd cry so loud the earth would shake and men would fall in tinsel town
There's just one thing, yes there's just one thing
Who can stand in they way when there's a dollar to be made

Ryan Rodrick Beiler is the Web editor for Sojourners.