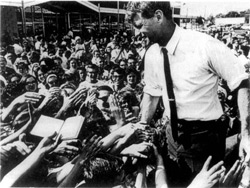 Forty years ago, Robert F. Kennedy was assassinated while campaigning for the Democratic presidential nomination. I was 16 years old, had just become aware of politics, and his death (only two months after the assassination of Dr. Martin Luther King Jr.) was shocking. But rather than leading to disillusionment, both of their lives inspired me these past 40 years in the movement for peace and justice.
One of the first political books I remember reading was Kennedy's "To Seek a Newer World," published in paperback in April 1968. I re-read parts of it this week and was struck by how similar the situation is 40 years later, with a seemingly endless war and rising poverty. And as a new generation is taking its place in the politics of the country, his advice to my generation then is also true today. He warned of some dangers we would face.
First is the danger of futility, the belief that there is nothing one man or one woman can do against the enormous array of the world's ills -- against misery and ignorance, injustice and violence. Yet many of the world's great movements of thought and action have flowed from the work of a single [individual] .... Few will have the greatness to bend history itself, but each of us can work to change a small portion of events, and in the total of all those acts will be written the history of this generation.