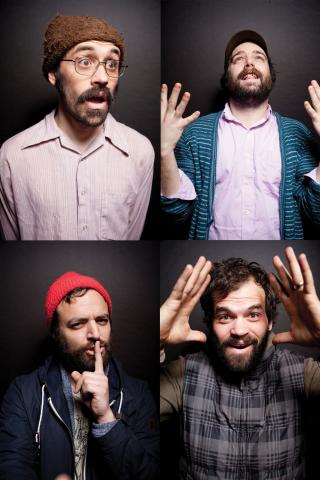 Aaron Weiss reached his arm into his backpack, which was laid atop a swath of Sharpie graffiti tattooed on our table.
Ever since he walked on the stage earlier that night, I was imagining what was in that backpack, which bulged enough that the zipper didn't close all the way. The bar we were in was dark and loud. It was 1:00 am. Most of the folks who had come to see mewithoutYou had already left for the night
"You'll get a kick out of this," he said.
He pulled out a hymn book much wider than it was tall.
"The Sacred Harp" was written across its brown cover in foil-stamped lettering. Weiss began to explain Sacred Harp singing to me, but he couldn't go into too much detail; it was getting late, and there were a group of men waiting to donate veggie oil to the band — they use it to fuel their tour bus.
Sacred Harp music, I learned later, is sung a cappella with four sections — tenor, alto, treble and bass — forming the boarders of a square. But the singers don't face out to an audience; they are turned toward the center of the square. The very center, where only one person stands, is the focal point. As our conversation began to drift to the subjects of performance and fame, it seemed fitting for Weiss to be carrying this book.
In May, mewithoutYou independently released Ten Stories, the fifth album of their career and their first album since parting ways with label Tooth & Nail Records. As conveyed by the striking artwork of Vasily Kafanov, the album tells the stories of a circus train traveling through Montana in 1878 — ya' know, normal album stuff. Listeners join the story beginning as the train flies off the rails on the first track. The rest of the album recounts the tails of the anthropomorphic circus animals as they enter the world outside of the circus ring and barred railroad cars to embark on journeys of both a geographic and existential nature.
Much like the train that the album is based on, some of the songs careen out of control while others slow down to take a corner. MewithoutYou earned a reputation for angsty, spoken-word lyrics enveloped in a backdrop of distorted guitars and riffs soaked in reverb using a recipe of one part discord to two parts melody. The most distinctive part of their sound comes from Weiss's vocal delivery that delineates back and forth between panicked spoken word, fragile digressions and simple melodic crooning, channeling the same energy present on an album by The Decembrists, Jack White, or Modest Mouse.
After taking a more alt-folk route on their last album, It's All Crazy, It's All False, It's Alright, mewithoutYou brought back a sound that is more familiar to fans of their original three albums. Listening to the opening track, "February 1878" — a reference to the band's earlier song "January 1979" — it's apparent that the distortion pedals have been pulled back out from the closet, and Weiss's vocals are once again delivered with anguished yelps. While the track, along with the entire album, may take a few listens before it starts to grow on the listener, it doesn't take long to recognize the talent that producer Daniel Smith (Danielson) and has to refine what could easily be a chaotic collection of tracks into songs that convey the story that the band intended. "Nine Stories" and "Bear's Vision of St. Agnes" are both stand-out tracks with brass and string arrangements rounding out the songs. Additionally, a guest appearance by Paramore's Hailey Williams is a welcomed, albeit unexpected, presence on "Fox's Dream of the Log Flume."
MewithoutYou are no strangers to writing songs that tell a narrative. Previous songs like "The Fox, the Crow and the Cookie" and "The King Beetle on a Coconut Estate" both showcased the Philadelphia band's ability to nestle a narrative in their songs, but Ten Stories is the band's first foray into concept album territory. The spiritual themes that have been an ever-present aspect of Weiss' lyrics are also more sparse and less overt on this album.
Weiss, who has said that his time spent with Shane Claiborne and The Simple Way community in Philadelphia was a life-changing experience, pays tribute to his faith, and biblical phrases find themselves into the albums lyrics repeatedly. Still, it's easier to find direct references to foliage and history on this album than the spiritual themes of previous albums that drew upon Weiss' Christian faith as well as his upbringing in a Sufi Muslim family (his mother converted from the Episcopalian church and his father from Judaism). Weiss also acknowledges the inspiration for certain lyrics on the album, directly sourcing authors as diverse as Walt Whitman, St. Teresa de Avila, Hegel and Herman Melville.
Back at the Black Cat, The Clash's "London Calling" was blaring while Weiss and I talked about music, life on tour, and how, years ago, he had traveled from Philly to meet a girl at the same table. He chose his words carefully, at one point beginning to quote Rumi, hesitating, and then deciding not to finish. He offered me water from his water bottle, and then apologized when it tasted "funny." He was reserved, thoughtful, and, most of all, honest.
"I'm more peaceful when I'm not talking or when I'm not writing," Weiss said. "My vocalness is evidence of my ignorance."
Those aren't exactly words you'd expect from a singer who just finished the first show of a brand new tour directly on the heels of a new album.
Just moments earlier, he had been on stage hopping, flailing, coiling, and unraveling as his bandmates, built the accompanying musical structure. They may have stopped to stretch a few times during the set, but they were no less energetic now than they were a half-decade ago.
On stage, Weiss barely said enough words all night to fill a paragraph. Conversing at the table, it was clear that Weiss was still working to keep the focus of mewithoutYou's music — like Sacred Harp music — centered
"If anything it's such an unusual dynamic to be there and see all these faces looking at me, and I say, 'Well, what do I do? What do I have for them? I have nothing for them,'" Aaron said. "And so I have to say, 'Oh God, help me.'"
Perhaps, if circus animals could talk, they might say the same thing.