Black Americans' educational equality has improved in the last year, but college graduation rates and access to high-quality elementary and secondary education remain a problem, according to a major survey by the National Urban League — an organization that wants Congress to ramp up early childhood education and provide more federal aid to black college students.
The organization, founded to push for economic and social parity for African Americans, released its 2016 equality index in the May 17 report. The index, which measures blacks' equality with whites in several categories, found that black Americans' parity with whites rose from 72 percent last year to 72.2 percent this year. The largest percentage point increase was in educational parity, which moved from 76.1 percent to 77.4 percent.
Improvements in the percentage of blacks with at least bachelor's degrees as well as higher college enrollment contributed to the improvement in the education index, according to the report. About one-third of 18- to 24-year-old African Americans are enrolled in college today. And the percentage of African Americans with a bachelor's degree or higher has more than tripled from 6.6 percent in 1976 to 22.2 percent in 2014, the report showed.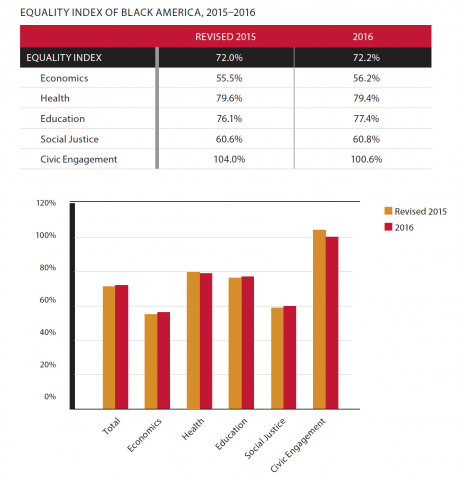 The National Urban League report calls for a $1 trillion investment in black America to improve equality in jobs and economic opportunities, health care, social justice, civic engagement, and education. The specific educational needs are universal early childhood education, doubling the federal Pell Grant financial aid program to make college more affordable, and increased federal funding to local school districts to help eliminate resource equity gaps.
National Urban League President Marc Morial meets regularly with congressional leaders and cabinet members to push for more spending on African-American needs, but according to spokeswoman Teresa Candori, the organization has not yet received formal endorsements of its $1 trillion investment plan.
NAACP Washington Bureau Director and Senior Vice President for Advocacy Hilary Shelton said the $1 trillion plan is crucial to ensuring that all aspects of education, including structural changes, receive attention.
"The earlier we introduce educational opportunities to our children, the more successful they're going to be," Shelton said.
Noting the National Urban League's hope for universal early childhood education, he said that also should include a focus on child care. Child care should provide tools for educational advancement, not just custodial care, he said.
Gerard Robinson, a resident follow with the conservative American Enterprise Institute, said believes the biggest educational obstacle facing blacks is access to a high school curriculum that can prepare them for college.
"Despite many of our students attending schools with great teachers, a progressive principal and supportive aides, too many students graduate from high school in need of remediation in college, the workforce or both," Robinson said.
Robinson suggested that parents and teachers review their local school budgets to determine if their children's school is investing its money equally for all students.
Read the full report here.
Got something to say about what you're reading? We value your feedback!