[... continued from part one]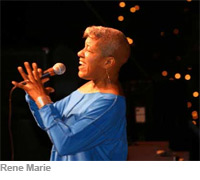 And that is my back door into discussing the recent exploits of Rene Marie, an artist based in Denver, Colorado. (I wanted you to understand my presuppositions and how I define my terms.) Rene Marie was invited by the mayor's office in Denver to sing the "Star-Spangled Banner" at the mayor's State of the City address in June. Her artistic offering turned out to be the words of "Lift Ev'ry Voice and Sing" to the melody of "Star-Spangled Banner" (how's that for a good gut check). Her arrangement is the third movement of a broader, evocative, and elaborate "love song to America." She had debuted the arrangement a month prior, in Denver no less, at the statewide Colorado Prayer Luncheon (for which the mayor was an honorary host), with many of Colorado's political elite in attendance. This second time, however, her contribution was met, days later, with venom and vitriol -- including death threats. Denver's mayor is up in arms and many are seeking to characterize the performance as a cheap publicity stunt. Rene has offered this statement and one interview in response.
Rene Marie was invited to sing precisely because she is a talented artist, and I would wager a guess that no one went out of her/his way to specify that only a specific arrangement be sung. Those who requested her participation just got more than they bargained for. Many have recited the words of the anthem as a poem without music -- and called it the "Star-Spangled Banner." At the Olympics, the music of the anthem is played without words -- and we call it the "Star-Spangled Banner." Marvin Gaye crooned the words of the anthem to an R&B groove at a NBA All-Star game (others from different musical genres have done variations of the same) -- and folks applauded it as the "Star-Spangled Banner." Finally someone has dared to complete the artistic set.
Though some may argue that Rene Marie breached her contract or at the very least showed poor manners, I would suggest that this was, even in the way it was structured by the Denver mayor's office, a "contribution" on Rene's part, not a transaction -- and thus should be understood differently. Rene Marie was solicited to offer her talents as a -- albeit public -- gift. No fee for service exchanged hands. There are no acceptable grounds for consternation concerning gifts given in love. This is the home-training we received every time a birthday rolled around (isn't it?). When we are given a gift, the appropriate response my parents taught me is always, "Thank you." Even if we spent time beforehand coming to terms about what the gift was to be and how it was to be presented (like in our Christmas lists), if we got on a stage and I made a monetary contribution to you, a politician, or charitable organization, it would be considered bad form for you to belittle it afterward on the grounds that it was somehow different than you expected. Why is Rene Marie's contribution any different?
One of the challenges of living in a society that is so fiercely market-driven is that we begin to think of every interaction as a "transaction." And we begin to believe that the appropriate response to interactions that fall short of our expectations is to appeal to the legal reasoning we've set in place to protect our transactions. That is one way of going about it, sure. But I don't see society so much the better for having reduced social interactions (i.e., with spouses, friends, teachers, colleagues -- and yes, even with our political representatives) to economic/legal transactions. Divorce is higher than ever, students certainly aren't learning more just because we now consider school a business, and here we have a mayor acting like a spoiled ingrate, and we don't have the collective good sense to chasten him.
Whatever one may think about what she did, Rene Marie did it in honor of America, not in desecration of her. Intent matters. We can't champion freedom of speech as a national virtue, and then crucify someone for exercising it in honor of our nation -- even if her specific expression of honor may not have been our own. In doing so, we miss the opportunity to see our world in new and living ways and to help shape our world into that beauty.
Those are my thoughts, but I'm open to other respectful points of view. What do you think?

Melvin Bray is a devoted husband, committed father, learner, teacher, writer, storyteller, lover of people, connoisseur of creativity, seeker of justice, purveyor of sustainability, and believer in possibilities. This post is one of a series of essays titled Home-Training.