The Power of Hope Defeats the Power of Fear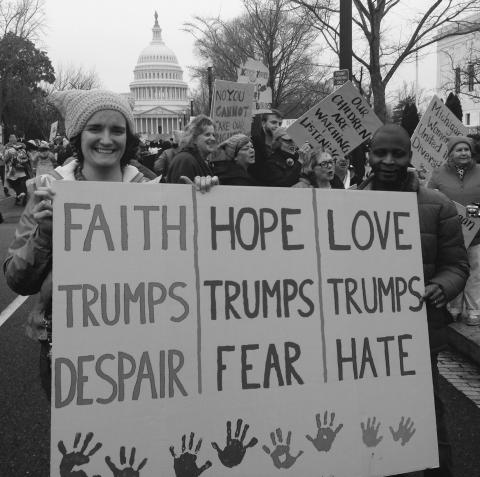 My husband and I left our four young children and took two overnight busses to march in D.C. because we believe that "Love Trumps Hate." Our faith teaches us to love and support those who are marginalized by those in power. In our society, we believe this to be women (particularly women who have been sexually assaulted), immigrants, refugees, Muslims, people who are LGBT, people with disabilities, and people of color.
We marched to express our belief that the power of love defeats the power of hate and the power of hope defeats the power of fear. Particularly to those of us who might be tempted to despair at the seeming triumph of "Trumpism," we also marched to say the power of faith defeats despair. As a note of caution, we also say that our ultimate hope is not in, and our ultimate allegiance is not to, government or state, but our hope is in, and our allegiance is to, our Lord Almighty.