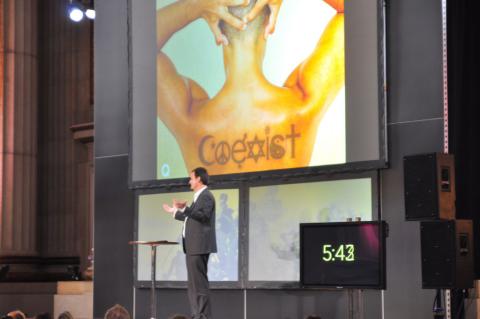 The annual Q conference has begun. In it's 5th year, the conference has come to Washington, D.C. and brought together about 700 thought, spiritual and cultural Christian leaders.
Modeled after the "TED Talks," the conference gives opportunity to a wide variety of speakers short segments, between 3, 9 and 18 minutes, to express ideas that can—or should be—shaping Christianity and the broader culture.
It's a hipper crowd than most Christian gatherings. The host of the event, Gabe Lyons, has already noted that several speakers are so on the edge of the fashion world that they aren't wearing socks. Unaware of this fashion trend, I got lucky. My socks have holes in them and given the standard rate of decay for these cheap cotton foot coverings, I'll catch up with in the next 18 months.
Speakers thus far have ranged from conservative New York Times columnist David Brooks to Chidi Achara who works in "fashion imagery," and from Mark Batterson, an innovative local D.C. pastor to Hans Hess, the owner of a quickly growing burger franchise that promotes sustainable agricultural practices.
The "Q" in Q Conference stands for questions. And in particular, those questions focus around the promotion of the common good. Lyons describes the common good in contrast to the public interest. While public interest, he argues is looking to find the "most good for the most people," the "common good" seeks to find "the most good for all people."
He argues that Christians cannot just be concerned about the welfare of other Christians. Rather they are called to be concerned about the welfare and flourishing of all, co-religionist or not.
The morning session didn't avoid any hot button issues but dove right in with a panel discussion around the topic of "abortion reduction." The panelists acknowledged that while there is much moral and legal controversy about abortion in our country, there is broad common ground on the need to find common sense and practical ways to reduce abortions in our country.
One of the interesting areas of conversation turned to the about 80 percent of young evangelicals in their 20s who have been sexually active. Should they just be encouraged to abstain or should the church also encourage the use of contraception as a way to prevent unintended pregnancies and reduce abortions?
The audience was polled about another topic that has received it's fair share of attention recently- access to contraception. They were asked to respond by text message to the question: "Do you believe churches should advocate for contraception for their single twenty-something members?"
Sixty-six percent of respondents said that yes, the church should encourage unmarried young people who are sexually active to use contraception and just 34 percent responded no.
Already the time at Q has raised complex moral issues and promises to treat other touchy subjects with nuance and candor too often missing from the D.C. culture. Stay tuned for more posts on the interesting discussions being had at Q.
Tim King is Communications Director for Sojourners. Follow Tim on Twitter @TMKing.