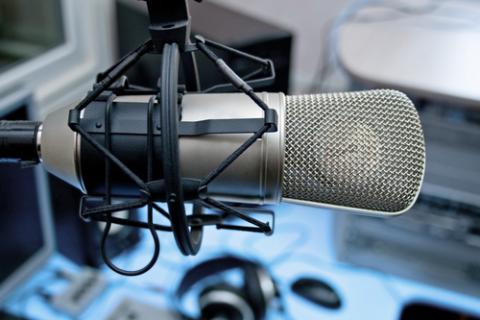 Earlier this month, the public radio show This American Life held a wide-scale live event in New York City. I attended the two-hour event via satellite in Washington, D.C. Like its weekly radio broadcast, the live show included pieces from a variety of storytellers gathered around a common theme — in this case "the invisible made visible."
The medium of radio doesn't lend itself to visuals — it is "theater of the mind" after all — but the live-on-stage iteration of This American Life took full advantage of the occasion (and change in medium), including many extra bells and whistles they could never pull off on the airwaves alone.
There were ballet dances that evoked strong emotion alongside stories of disease and growth. A visual documentary of a photographers' abandoned storage unit. We made music together on smartphones with the band OK Go, and laughed as '80s pop star Taylor Dayne appeared after a piece about a comedian spying on her.
What I found incredibly powerful about the event was that — in spite of the spectacles of an audience and stage — it was bookended by storytellers alone at the mic. It was as if to say, "a good story really can captivate with words alone."
As Ryan Knighton, who began going blind when he was 18, expressed his struggle to relate to his seeing daughter, the way he crafted his experience was what held our attention. Likewise, as the night ended, David Sedaris' tale of chatty, inconvenient coffee-shop goers showed the clever and sharp commentary he's known for (though he did appear in clown make up).
Every moment of the evening was empowering to me as I seek to cultivate the practice of storytelling in my own life. It's caused me to ponder what kind of story I want to tell, and how I can use what's in front of me to make something meaningful.
Take a listen for yourself, the power of story of the invisible made visible:
Joshua Witchger is an online assistant at Sojourners.
Image: Tsian /shutterstock.