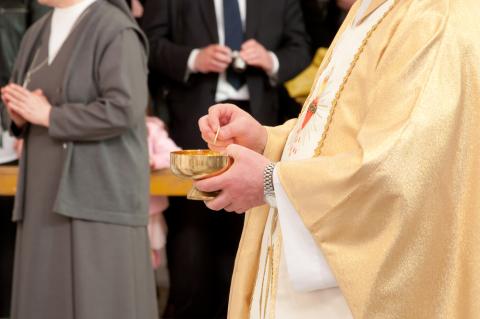 A Catholic priest who allegedly denied Communion to a lesbian at her mother's funeral has been put on leave pending an investigation of unrelated "intimidating behavior toward parish staff and others," the Archdiocese of Washington said.
The Rev. Marcel Guarnizo, a priest from Moscow who has been serving in the archdiocese since last March, lost his assignment at St. John Neumann Catholic Church in Gaithersburg, Md., on Friday (March 9).
Guarnizo made headlines when Barbara Johnson, a lesbian attending her mother's funeral at the church, said he denied her Communion. At the time, the archdiocese said "issues regarding the suitability of an individual to receive Communion should be addressed by the priest with that person in a private, pastoral setting."
Guarnizo's removal is related to other issues and not the Communion incident, a diocesan spokeswoman said. The archdiocese said an official had received "credible allegations" of Guarnizo's behavior that were considered "incompatible with proper priestly ministry."
He was placed on administrative leave during the investigation.
"Given the grave nature of these allegations," the archdiocese said, "Father Guarnizo is prohibited from exercising any priestly ministry in the Archdiocese of Washington until all matters can be appropriately resolved with the hope that he might return to priestly ministry."
In a statement reported by The Washington Post, Johnson's family said it understands the most recent events do not relate to the funeral but they hope the decision about Guarnizo "will ensure that no others will have to undergo the traumatic experiences brought upon our family."
Adelle M. Banks writes for the Religion News Service. Via RNS.