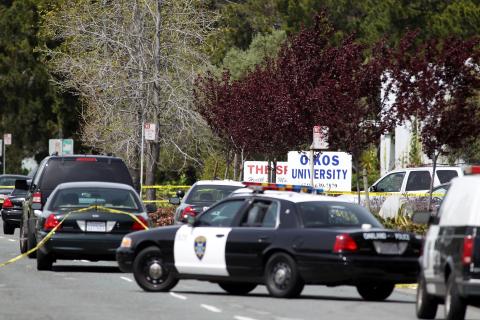 Seven people died and three others were injured Monday afternoon when a gunman opened fire on the Oakland, Calif., campus of Oikos University — a small Christian college that caters largely to a Korean and Korean-American student body.
According to CNN, police have detained a man in his 40s who police believe to be the shooter. Oikos University founder and president, the Rev. Jong Kim, told the Oakland Tribune that the gunman was a nursing student who was no longer enrolled at the school.
An update of the Oakland Tribune story shortly after 9 p.m. EST Monday police have arrested 43-year-old One Goh of Oakland in connection with the deadly shooting.
A former nursing student who opened fire in a small Christian university Monday morning, killing seven and wounding three more, first told his former classmates to line up against a wall before pulling a handgun and sending students fleeing in panic, a witness said....

Police said five people were dead at the scene; of five others who were taken to the hospital, two later died. Authorities said most of those killed and wounded had been in a classroom near the school's entrance; one was shot in an administrative office. The gunman reportedly went to another classroom and fired through its locked door but didn't hit anyone there.

The gunman was caught a short time later in an Alameda shopping center, about five miles away, police said. Safeway employees who did not give their names said the suspect told a store staffer that he had shot people and needed to be arrested.
Gurpreet Sahota, who relayed an account from his sister-in-law, Dawinder Kaur, 19, a nursing student at Oikos who was shot Monday, to the Tribune, said Kaur told him that the shooter had been a nursing student but hadn't been to classes in months before turning up on campus Monday and ordering students to stand against a classroom wall. When he displayed the gun, students started running and he began shooting, Sahota told the newspaper.
Kim, the university president, told the Tribune he wasn't sure whether Goh had been expelled from the university or left voluntarily.
Oikos, founded in 2004, offers bachelor's and master's degrees in several disciplines, including nursing, music, theology and Asian medicine. The university's website details the school's Christian mission and doctrinal beliefs, which include the infallibility and authority of the Bible, God's creation of the universe in a literal six-day time period, personal salvation by the grace of God alone through the atonement of Jesus' death and resurrection, "Last Things" — including the visible return of Jesus Christ to earth and the establishment of his kingdom, as well as the final judgment, eternal punishment and reward — and that Satan is real.
"We believe the existence of a personal, malevolent being called Satan who acts as tempter and accuser, for whom the place of eternal punishment was prepared, where all who die outside of Christ shall be confined in conscious torment for eternity," the university website says. "He can be resisted by the believer through faith and reliance on the power of the Holy Spirit"
The Oikos website also details the university's expectations for students' behavior.
"Because Oikos functions as a community of believers, students are to demonstrate a respectful attitude in all encounters with administrators, professors, staff personnel, campus guests, and other students," the website says. "This standard applies to all areas of behavior, speech, and overall deportment. The same courtesy is to be returned to each student in the treatment he or she receives from others. Deviation from this standard will result in a review of the incident by faculty and staff advisors and the Dean of Students. Following this review, the Dean of Students will make an appropriate restorative recommendation."
"Restorative" is a theme throughout Oikos' explanation of its disciplinary policy for student misbehavior. The dean of students is responsible for reviewing "any incident of a student threatening or harming the physical well-being of a person or property,' it says. Following the review, the dean would put in place a "restorative action plan" that "coudl include reporting the incident to law-enforcement officials, imposing personal restrictions on the involved students, and/ or recommending dismissal of the student from Oikos University."
The disciplinary policy explanation continues, "The primary goal of the Oikos Disciplinary Policy is always to pursue the full restoration of the involved student. With this goal in mind, the suspension of a student from Oikos is not a desired result, but suspension may occur if a student shows an unwillingness to comply with or meet the objectives of a restorative action plan."
In the wake of this unspeakable tragedy at Oikos University, we offer the following prayer, with thanks to the Rev. Kristina Maulden who posted it on her blog, Sacred Ground:
Loving God,

Gather to your heart the victims of violence and hate.
In the wake of unexplainable suffering, walk with us.

Comfort those who lost loved ones unexpectedly and needlessly.
Renew their hearts with your grace.
Wash them with your tears.
Breathe your life into their spirits.

Guide us through our fears and anxious moments.
Bless us with the knowledge of your presence always.
Raise up among us those who will tirelessly work for unity and reconciliation.

May we all become agents of your peace.

Amen
Cathleen Falsani is Web Editor and Director of New Media for Sojourners. Follow Cathleen on Twitter @GodGrrl.