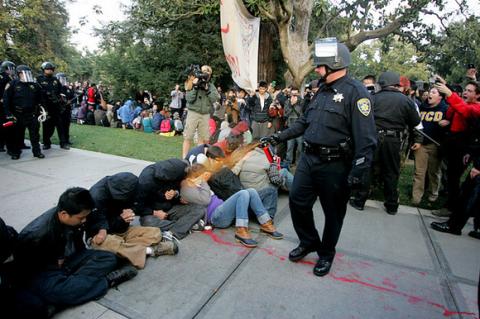 There are photographs that have become part of our iconic memory.
Think of German shepherds straining at their leashes and the water from fire hoses striking students in Birmingham, the young woman at Kent State kneeling in anguish over the body of a student who had just been killed by National Guard bullets, a young girl running naked down the road after a napalm attack on Vietnam.
The one that rocketed around the world last week, shows a police officer calmly spraying pepper spray in the faces of a row of students sitting peacefully in protest.
When asked in an interview what it was like to have produced such an iconic photo, student photojournalist Brian Nguyen said, "It's pretty crazy. People are calling me a hero and saying I'm brave and all that and I don't think that's true. I think the people who are real heroes are the ones who sat down in nonviolence to protest. They're the ones who put their bodies on the line. I was just there taking pictures." [See more of Nguyen's photos from the pepper spray incident via The California Aggie, UC Davis' student newspaper, HERE.]
The old cliché says that a picture is worth a thousand words, and it's usually true. Reading about something can never match the power of a photo that jumps out and grabs you without a word being said.
The photojournalists who cover wars and military actions often put their own lives at risk to being us their pictures. Their bravery and skill always prompts my utmost respect and thanks.
Duane Shank is Senior Policy Director for Sojourners.