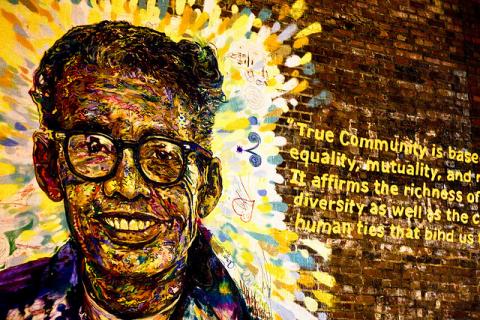 The life and legacy of Pauli Murray has been getting a lot of attention from the media lately. Articles on Salonand NPR have highlighted Murray's trailblazing legal work around the intersections of race and gender in America. Murray's scholarship and activism around 'Jane Crow' — the overlapping discrimination faced by women of color — arose from her own experience as an African-American woman in early 20th century and her arguments resonate with seemingly even greater force today.
Less talked about, but equally needed in our present time, is an examination of her work as a priest and a theologian — and, critically, how her understanding of religious and nonreligious concepts provided the means, methods, and motivation for her own activism.
Indeed, in a life filled with accomplishments, it was perhaps her final achievement that she prized most personally. In 1973, Murray became the first female African-American Episcopal priest.
A lifelong Episcopalian, Murray's faith had always fueled her work for racial and gender equality. A small example from her experience at the famous 1963 March on Washington exemplifies this commitment. In typical Murray fashion, she attended with two groups that she felt represented her commitment to civil rights. Marching first with the local American Civil Liberties Union chapter, she then veered off and found the delegation from St. Mark's-in-the-Bowery parish, her home church in New York, to watch the "oncoming multitudes" peacefully demand racial equality in an unequal country.
By that time in 1963, Murray had long been involved in various civil rights causes and, in turn, had developed a deep knowledge of other religious worldviews in addition to her own Christian background. Murray's activism against segregation showcased how this knowledge moved her to action. In the early 1940s, Murray helped organize her fellow students at Howard Law School to protest the racially segregated restaurants in Washington, D.C. When deciding how to confront Jim Crow's seemingly "unalterable way of life," Murray and her colleagues adapted the nonviolent concepts of Gandhi.
"We were eager to adapt Gandhian techniques to our own struggle," she wrote, and, along with people like A. Phillip Randolph (a humanist) and Bayard Rustin (a Quaker), Murray was an early adapter of concepts like Satyagraha — truth or love force — in the American civil rights movement.
Indeed, Murray's life showcased a constant aspiration to learn more about other people's faith and philosophical commitments and then use that knowledge to promote progress in the world. As a law professor in Ghana, she met missionaries from an Assembly of God church that "shattered [her] stereotypes about people that followed their calling" and made the "deepest impression" on her work in helping craft a fair legal system for the newly independent Ghanaian government, as she wrote in her autobiography, "Song in a Weary Throat."
In 1968, she was an American representative to the ecumenical Fourth Assembly of the World Council of Churches in Uppsala, Sweden, where she helped draft a statement opposing actions of international racism and advocated for the inclusion of women in leadership positions within the ecumenical movement.
In her final job before pursuing the priesthood, Murray taught at Brandeis University. Murray "had long admired the Jewish tradition of learning" that Brandeis stood behind and found constant inspiration in the "Scriptures … poetry, and historical literature" of Judaism, she wrote in "Song."
That tradition and inspiration framed her work with minority and first-generation college students at the university.
It's no surprise then that, after her ordination as a priest, Murray spoke most often of the Christian concept of reconciliation in her sermons and writings. Essentially, she sought a way to reconcile difference by recognizing our shared humanity. She was firmly grounded in her own faith, yet inspired by the deeds and values of other faith and philosophical commitments.
Her willingness to engage these commitments forms the basis of a theology of interfaith cooperation. Murray asked all of us to "affirm the richness of individual diversity as well as the common human ties that bond us together."
Difference was a fact of Murray's life, but one that was all too often used as a bulwark against equal rights and respect. Her life and work — whether as an activist, attorney, academic, or faith leader — highlight that differences should not divide us from each other, but, instead, bring us closer together.
Carr Harkrader is the Educational Resources Manager at Interfaith Youth Core. In that role, he writes educational and curricular material related to interfaith cooperation, higher education, and current events. He also produces and co-hosts IFYC's Common Knowledge podcast.​​