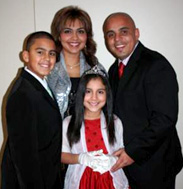 Pastor Walter is experiencing firsthand the effects of a broken immigration system. Walter migrated to the United States from Colombia when he was young, petitioned by his parents, who were Lawful Permanent Residents. Walter's parents wanted for their son to enjoy the opportunities that the United States had to offer.
As a young man, though, Walter fell into the wrong crowd of friends. On one occasion, in 1992, a friend offered Walter what he should have known was too good to be true: a large sum of money for himself if he'd make a discreet commercial exchange with a stranger in downtown Chicago. Walter made a bad decision -- and he ended up convicted of a crime and imprisoned for two years.
After serving his time and being released from jail, though, Walter's life experienced a radical turn-around. Drawn to a local church by a particularly notable girl in the choir -- Andrea, now his wife -- Walter realized his own need for redemption. Walter accepted Christ in 1995, putting his past behind him. "Thanks to God and his mercy, I am now a new creation," Walter says, citing the apostle Paul.
In 2007, Walter and Andrea started a church on the north side of Chicago, and it has grown steadily as it ministers to Spanish-speaking people from throughout the region. Given his own testimony, Walter counts it a privilege to be able to share with others -- especially those who have lost their way -- the hope that he has found in Christ. "I am a witness that Christ changes lives," Walter testifies.
While he has walked through immigration challenges with members of his church -- a few years ago, a good friend was deported and separated from his family -- Walter never imagined that he would have to experience these trials himself. After all, he had come to the United States lawfully, with a green card, and his wife and children, as well as his parents and siblings, are all citizens. Last October, however, Walter traveled to his home country of Colombia for a vacation. Upon his return to the U.S. in November, Walter presented his green card and his passport, eager to be at home in Chicago with Andrea and his two children, Johanan (12) and Faith (10). The immigration agents at the airport in Miami, however, informed him that there was a problem: His crime, committed in 1992, for which he had satisfactorily served his criminal sentence, rendered him deportable.
After several hours of detention, Walter was allowed to return to Chicago, but the authorities kept his green card -- and informed him that he would need to report to immigration court in Chicago in January, where a judge will determine if he would be allowed to stay or required to leave.
While Walter has a strong faith in God's provision, he is naturally anxious about his upcoming court date. He has spent thousands of dollars to hire an immigration attorney, but there is no guarantee that he will be successful. If deported, his wife and kids will face a terrible decision: leave their homeland, and the kids' schools, and their church, to go to an entirely foreign country, or face indefinite separation from their husband and father. The growing church, likewise, will be without its pastor.
Walter recognizes that he made a serious mistake 15 years ago, but he knows that God has forgiven him, and he served his time. Unfortunately, Walter is one of thousands who have found that the U.S. immigration system is neither forgiving nor sensible. As one of many evangelical Christians in the United States who faces separation from his family under the current system, Walter yearns to see the church in the U.S. "raise its voice" in favor of just, compassionate, and sensible reforms to the U.S. immigration system.
Matthew Soerens is the co-author of Welcoming the Stranger: Justice, Compassion, & Truth in the Immigration Debate (InterVarsity Press, 2009). He lives in suburban Chicago in an intentional community called Parkside.
+ Show your support for just and humane immigration reform by signing the CCIR Statement.
This account is taken from Voices of Immigration, a campaign of Christians for Comprehensive Immigration Reform (CCIR) aimed at highlighting the stories of immigrants in our country. Believing that every person is made in the image of God, we seek to restore the human element to the conversation around immigration reform. Each day this week a new story will be highlighted on God's Politics, with additional ones posted throughout March at CCIR's Web site: www.faithandimmigration.org.
Got something to say about what you're reading? We value your feedback!