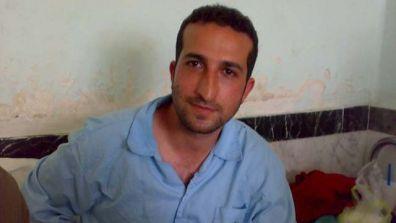 Last fall on God's Politics, we ran a few posts on the plight of Youcef Nadarkhani, a Muslim convert to Christianity who was arrested, charged with apostasy, tried, convicted and sentenced to death in Iran in 2010. We asked for continued prayer for the pastor and his family, and for people of conscience to speak out on his behalf.
Fast-forward five months...
As I was browsing through Facebook last night, I noticed a post on my news feed with the photo of a blindfolded man standing next to the executioner's noose and a headline that read, "Youcef Nadarkhani Executed."
My heart stopped for a moment. Please, no, I thought. And the guilt began to flood in: How could I have dropped the ball? If we had continued to sound the alarm on his behalf, would he have been hanged? Could we have helped save him if we'd done more?
I quickly went to Google to look for news reports of Nadarkhani's execution, reportedly on March 3. But I couldn't find any. Nothing on CNN, BBC, Al-Jazeera, NPR.
After searching for a while, I found a post by the American Center for Law and Justice that confirmed what had become my hope: Reports of Nadarkhani's execution were false.
According to a March 6 report by Christianity Today Australia:
Photos surfaced on the Internet Saturday, allegedly showing a blindfolded Nadarkhani facing execution by hanging. These photos are outdated and false, the ACLJ reported Saturday.

Although Nadarkhani is still alive, the ACLJ does still believe that Iranian courts have issued an execution order. In the past, Iran has not informed the public of an execution, oftentimes dropping the prisoner's executed body on the family's doorstep.

Persecution organizations continue to push the importance of international pressure on Iran in helping to secure Nadarkhani's release, ascertaining that international pressure has helped keep the pastor alive.

Over the past two weeks, the United States has taken an assertive stance on Nadarkhani's case. On Feb. 23, both the White House and the U.S. Department of State issued statements urging the evangelical Christian's immediate release.

On March 1, the U.S. House of Representatives passed a three-page resolution titled H. Res. 556, which declared Iran to be in violation of the Universal Declaration on Human Rights, the International Covenant on Political and Civil Rights, and the Iranian constitution.

Other persecution watchdog organizations, including The Voice of the Martyrs, Present Truth Ministries, Open Doors USA, and International Christian Concern have all openly condemned Iran, shedding a crucial light on Nadarkhani's plight.

Read the full report by CT HERE.
Thanks be to God! That is good news. Pastor Nadarkhani is still alive.
And we still have much urgent work to do to make sure it stays that way and that Nadarkhani is released from prison unharmed.
Reportedly, when Iranian officials demanded that he recant his faith in Jesus Christ or die, Nadarkhani, who has been imprisoned and separated from his wife and two young sons for three years, responded, "I cannot."
The ACLJ launched a "Tweet for Youcef" Twitter campaign on Nadarkhani's behalf that has garnered so far more than 1 million posts. That's one way to keep up the public pressure for the pastor's release.
Now an Iranian official is saying that Nadarkhani will not be executed and that reports saying he'd been condemned to death were "fabricated."
I don't know about you, but I have a hard time finding any solace in such proclamations. Consider the source. I'm not alone in my skepticism. The Huffington Post reports:
Leonard Leo, chair of the U.S. Commission on International Religious Freedom, told the Religion News Service last year that Iran's court proceedings can't be trusted.

"The court continues to demand that he recant his faith or otherwise be executed," Leo told RNS. "The most recent court proceedings are not only a sham, but are contrary to Iranian law and international human rights standards."

Despite the reported execution ruling last fall, Iranian envoy Mohammad Javad Larijani told the Human Rights Council that such punishment is not permitted in Iran.

"In the last 33 years after [the Islamic] revolution, no single person has been put to death or executed or pursued for changing his religion from Islam," he told the council, according to FOX News. "Hundreds of people are changing from other religions to Islam. Why we should be so sensitive about a few people to change their religion from Islam?"
International pressure seems to be helping keep Nadarkhani alive. In the coming days and weeks, we promise to keep you abreast of all new developments as they arise.
(You can read the latest news coverage of Nadarkhani's plight HERE.)
And we join you in continued prayer for Pastor Nadarkhani's safety as well as the wellbeing of his family.
Cathleen Falsani is Web Editor and Director of New Media for Sojourners. Follow Cathleen on Twitter @GodGrrl.