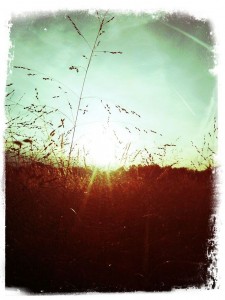 Autumn mornings -- when the cool rain is hitting the tin roof and the breezes blow with enough swagger to make the trees bow in admiration -- remind me of when my second daughter was born and after we had held her in our arms for some time we knew exactly what her name would be. Jorah (meaning "autumn rain" in Hebrew.)
I cannot help but reminisce about those summer sunsets (pictured above) when the sweaty warmth stretched late into the day. Those days were full of bold, luminous life. A bountiful garden. Happy hens sauntering. Silly children splashing and running and laughing.
During the summer season, my wife's delicate hands turned, with soil under her nails and calluses here and there from hours of loving toil in the garden -- always walking towards me with a bowl full of color and a mouth cracked open by a proud grin. She mothers the vegetables in her with almost as much attentiveness and love as her own babes.
Now autumn's crisp air awakens us as we feel the seasons shifting. The trees cast all their energy into turning shades of green into glorious reds, yellows, oranges and golds, a celebratory finale before bowing out for a season of slumber.
The reality of the coming cold is manifested as brilliant colors fade and fall drably around our now-shoed feet.
The garden has become a barren patch of earth soon to be covered in sheets of white like an unused piece of attic furniture. The bitter cold sends us inside to commune with comfort and coffee. My wife's hands remain callused -- now from endless hours of knitting, ever making her love tangible.
The world outside seems vacant, lifeless and numb. Alas, if life has taught us one thing it is that all is not as it seems.
+++++++++++++++++++++
Autumn mornings bring to mind the seasons of life -- the seasons of self.
Our summers find us vibrant and radiant. Our spirits run free and dance through open fields of fertile ground, planting seeds with every gracious turn. New life is bursting up around us and joy is palpable. We think that the summer season might just stretch on forever.
Transitions always are hard to recognize until seen in retrospect. We bask in the sun and unaware of the subtle shift, oblivious to summer's overt colors giving way to a beautifully bittersweet autumnal display.
Before we know it we find ourselves 10 feet deep in despair. The cold has crept in and we feel if another moment passes we could turn to ice and shatter. So we run.
Our fleeting feet search for traction as the frigid wind licks our skin numb. We long for those warm days in the sun when our fingertips grazed the tops of wild grasses. The nostalgia only makes our current situation all the more bleak. Our tired bodies ache.
This escape plan hurts almost as much as what we are running from, but to stand still is to face reality -- so we keep moving. Moving towards an imaginary future constructed of the best projections of our past.
In all of our running (fear), in all of our planning (control), in all of our remembering (pride)