In the squares of the city, In the shadow of a steeple;
By the relief office, I'd seen my people.
As they stood there hungry, I stood there asking,
Is this land made for you and me?
-- Woody Guthrie, a "lost" verse from "This Land is Your Land"
++++++++++++++++++++
A RECLUSIVE SURPRISE:
(+The video below may contain coarse language+)
Amidst rumors that the enigmatic British band Radiohead would perform a free gig for #OccupyWallStreet protesters in New York City's financial district Tuesday night (10/4), the crowds were surprised with what is perhaps an even-rarer-still performance by famously reclusive indie darling Jeff Mangum, lead singer of the now defunct, cult-favorite Neutral Milk Hotel.
The Wall Street Journal reports that Mangum's performance at nearby Zuccotti Park raised spirits for a crowd of protesters:
"Of course I support [Occupy Wall Street]" Mangum said, following the 10 p.m. show. "This is just something small I can do."

A girl shaking his hand said Mangum "injected new vibrancy" to the protest, and he said, "That's exactly what I'd want." The singer, who performed cult-favorite indie tunes like "In the Aeroplane Over the Sea," "King of Carrot Flowers," and "Oh Comely," declined to elaborate on his feelings about the protest, because, he said, he's planning to write something about it. The famously reclusive Mangum - who virtually vanished since his band's breakthrough 1998 album, "In the Aeroplane Over the Sea" - has only recently returned to the stage, playing in a Baltimore church and at the All Tomorrow's Parties festival in New Jersey on Monday.
REVOLUTION SONG:
Wonder how long it'll be until Eddie Vedder, Moby, or perhaps even Woody's son Arlo Guthrie show up to serenade the protesters who've been camped out for nearly three weeks?
Wouldn't that be a hoot?
How 'bout it, fellas?
Jay Samel, a 33-year-old musician from Great Neck, N.Y., who is working on his first album, according to his (as yet uncensored) Facebook page, posted a video for his original composition, "Smile," on YouTube and asked folks to spread it around. So here you go:
Samel also composed a song for the Egyptian Revolution earlier this year:
ST. FRANCIS, PRAY FOR US: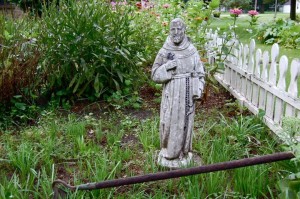 While not directly connected to the growing #OccupyWallStreet movement, the Franciscan Sisters of Christian Charity are featuring a song inspired by the life of St. Francis of Assisi -- a protest song of a kind -- as their free audio download for the month of October on their Franciscanized World Web Site. The Feast Day of St. Francis was marked by Christians worldwide yesterday.
The song, "What Would You Do?" by singer-songwriter James Lee Stanley, "was inspired by the idea that protest songs only reach those who are already in agreement," he said. "I thought I needed to write a song that the opposition could hear and perhaps effect what I considered to be positive change."
In his original song, Stanley asks:

All of our lives we've been told paradise

Resides in the heavens above.

What would you do if you suddenly knew

It was here with the people you love?

Would you wage war?

Would you breed hate more?

Would you use terror to rule?

Or would the water run sweet and the land at our feet

Be peaceful and green, clean and pure? ...

Have we already done all we can?
CLICK HERE TO DOWNLOAD THE FREE MP3 FROM THE FRANCISCAN SISTERS