Part six in a series of posts by Bob Massey, a Los Angeles screenwriter who is currently traveling to India with a team from Ecclesia Hollywood hosted by a faith-based human rights organization whose work in Mumbai concentrates on rescuing girls from sexual slavery. + Click here to read previous posts
Back to Ishmael's office to hear from the aftercare team. We'd already seen them in action, obviously, but to hear about what goes into rehabilitating a trafficked girl is an intense experience. The team happens to be entirely women. In fact, much of the larger office is women, and nearly all are Indian. I want to make clear that this isn't some big American crusade just because Ishmael is from the U.S. This is an effort by Indian Christians. And people from all over the globe support it since the traffic crosses international borders.
At lunchtime we discovered that Pizza Hut here serves curry pizza. That's your big American crusade, if you're looking for one.
In the afternoon we saw the other side of Mumbai at the Inorbit Mall. Turns out malls everywhere are pretty much the same. And it highlighted all the tensions that are the hallmark of this trip. Some of us also caught half of a Bollywood flick at the multiplex. It was in Hindi but you pretty much get it: girl wants boy, boy brings home light-skinned princess, girl breaks into the forbidden room where the ghost lives, there's a musical number, then some physical comedy, boy gets his comeuppance, and so on. We do this in Hollywood by a similar formula. We know the drill.
Flight to Delhi.
Train to Dehradun.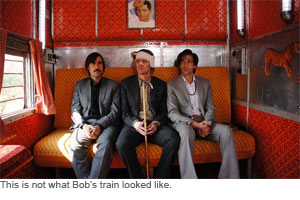 Except the train thing is worth noting because it's not at all like a Wes Anderson movie. Wes, you big fat liar. I mean, filmmaker.
Sigh. I wish Owen Wilson were my friend too. You know that scene in The Royal Tenenbaums when they go confront Owen Wilson's character in his apartment and he's sitting there smiling that Da Vinci-esque O.W. smile, and above his head is an oval framed drawing of some tighty-whities? Okay, never mind. I know you can't say "tighty-whities" on a Sojourners blog.
Anyway, the train was more like - too much baggage, heat, changing money, watch the money belt, ATM won't take our card, insane taxi thing, beggars who are bringing their A-game by trying to amuse the money out of our pockets and it almost works, one insane guy who insisted on getting my address (Ted Nugent, 1600 Pennsylvania Ave., Washington, DC 20001), missing one ticket, getting kicked out of seats, a thrown rock shattering the train window, and about a bazillion supernice friendly Indian people.
Seven hours later we're at Dehradun. Snagged by our friends Hari and Dr. Reeta, who run SNEHA, a school / health clinic / vocational training center for kids from the slums.
Next up: the greatest place on earth, SNEHA.
Got something to say about what you're reading? We value your feedback!