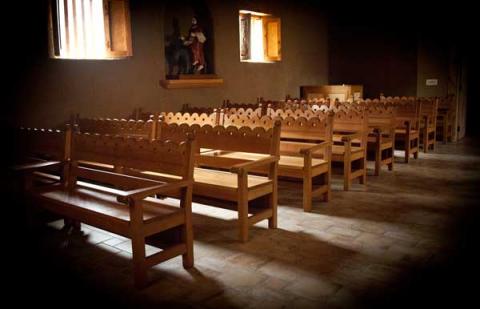 Merry what? Just in time for Christmas, new statistics show "no religion is the new religion" in Great Britain, according to a study released Monday.
The study, by Westminster Faith Debates, finds 38 percent adults in Great Britain, and 48 percent of those ages 18 to 29, checked no religion in online surveys conducted in January and June by YouGov.
These numbers fall midway between the findings of two other British studies that both show a trend away from the pews.
The British Social Attitudes Study in 2012 found 48 percent claimed to have no religion. And the 2011 Census reported about 25 percent of those surveyed in England and Wales said they were "nones," including 32 percent of those under age 25.
"Nones" is an umbrella term that includes atheists, agnostics, humanists and a significant number who say they believe in God but don't affiliate with any specific religious tradition. It was popularized by the American Religious Identification Survey, which tracked the rise in U.S. "nones" from 8 percent in 1990 to nearly 16 percent in 2009.
In 2012, the Pew Research Center calculated that about 20 percent of Americans overall are "nones" but Gallup put the number slightly lower at less than 18 percent.
Why do findings vary? Does the question wording prompt different replies? Westminster Faith Studies took note of this in the study report, observing, "Fewer people seem to opt for no religion when given the option of "Christian," as on the Census." This is the question structure used by Gallup in the USA as well.
The Social Attitudes Study and the YouGov surveys in Great Britain, however, gave people a list of denominations to consider such as the Church of England or the Catholic Church or others, as well as the "no religion" option. In the U.S, the ARIS study and Pew Research asked open-ended questions.
And ARIS and Pew Research, like the British Social Attitudes Study, use landline and cellphone interviews rather than the online-only format used by YouGov.
Still, no matter how you ask or calculate it, "no religion" is growing at a faster rate than religions in Great Britain and the USA.
Is this a lump of coal in believers' statistical stockings? Not necessarily. None of the surveys answers whether people are really losing religion or they're just now feeling free to reveal they were faith-less all along.
In 2012, I asked Rev. Albert Mohler, president of the Southern Baptists Theological Seminary in Louisville, about the "nones" trend. He rooted it in a Western cultural shift that sees, "no shame in saying you're an unbeliever, no cultural pressure to claim a religious affiliation, no matter how remote or loose.
"This is a wake-up call. We have an incredible challenge ahead for committed Christians," Mohler said then.
So, is two days before Christmas the worst time to point out how Christianity in the West is taking a hit? Maybe not. For those who believe, Christmas celebrates the birth of hope.
What's your view on the rise of the "nones?"
Cathy Lynn Grossman writes for Religion News Service. Via RNS.
Send Us a Note
Got something to say about what you're reading? We value your feedback!