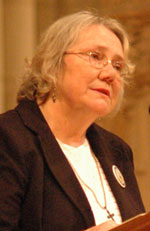 The sorrowful convergence of the fifth anniversary of the war and the observation of the 4000th fallen U.S. soldier in Iraq looms sadly ahead. Soon candles will be lit and vigils held, arguments will ensue as to who was right, and the meaning and value of sacrifice and the chorus of whispers, wails, and anger will be carried on wind sweeping across this country and all the gravestones of war.
The stones are silent witnesses to the failure of humans to follow the commands of the Lord of Love. The stones are places where U.S. families gather, as far as can be from the bombs and desert fears.
It is in that cold silence that my grandson and I visit his father's grave. He throws chunks of snow around the fully decorated gravesite. "My dad loves to have snowball fights" he tells me in present tense. "My dad and me always team up against my mom; she doesn't like snow." He laughs; and in this moment of transcendent playfulness I look at him with great love and will not speak of horror and lost hopes.
Head bowed, snow tears on my face, I let the chill of the day overtake me - but I do not want my grandson to see my thoughts. In spite of all my protests, I could not protect him from losing his playful, tender father. I can only hope now to be a witness to the good life lost - to all the good lives lost. I will add my voice to the wind of remembrance and faithfulness.
And I know for the rest of my life I will come to this country cemetery and visit my son who will never be older than 30. And I, like so many mothers and grandsons in this cold season, will stand amidst the stones of this country to listen in the snow for the laughter and forgiveness of our lost.
Celeste Zappala is the mother of Sgt Sherwood Baker, who was killed in action on April 26, 2004. Sherwood was killed while protecting the Iraq Survey group as they searched for the weapons of mass destruction in Baghdad. He was the first Pennsylvania National Guard solider killed in Iraq.