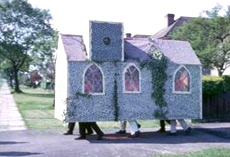 If I had a dollar for every person who has asked me "So, what IS the emerging church?" we could meet our budget this year. Here's my own definition, and it is just that -- my definition. Not the definition. This is descriptive, not prescriptive. When I use the term "emerging church" here's what I mean by that. (I feel like I'm walking into a minefield, but here we go ...)
Emerging church:
Christian communities that emerge out of very particular cultural contexts where the traditional church is basically irrelevant. These cultural contexts are more often than not urban, youngish, and post-modern.
Emerging church is not a worship style. I know emerging churches that do traditional liturgy with jazz (Mercy Seat), who use electronica (Church of the Beloved), who are a capella Gregorian chant (House for All Sinners and Saints), and who do nothing but old-time Southern gospel (House of Mercy).
So, when traditional churches in the suburbs are wanting to attract young people (with all the good intentions in the world) and they ape some kind of worship style they read about in a Zondervan book by starting an "emerging" worship service, it's a bit