A couple of weeks ago I posted about Mumford and Sons. I suggested that the Wednesday concert was, for me, a festival of devotion. Friday's concert, however, was something else. It was an eschatological event. Not transcendent, though others have used that word to describe it, but immanent, apocalyptic, eschatological. There we were gathered all in one place, as the Bible story goes, and the place exploded. Cathleen said more than once that the Holy Spirit was present. I love it when shows differ from night to night. I love it when the audience brings something new. I also wonder how such a noticeable distinction at a concert can be a helpful reminder for all of us who plan liturgies.
My wife is an actress. She will do the same show five or six times a week for six to eight weeks. The same play. Every night. But what she will also say is that it is never the same play every night. Actually, she has said that if you do it right it should never be the same piece twice. There is no such thing as a repeat performance if one understands repetition is not exact duplication.
Similarly, a live concert is not a track on a CD. One does not show up to a concert and press "play." No, it is a singular performative event. Even when, as with Mumford and Sons, the set list is similar and the choreography (yes, even Mumford and Sons have a couple of staged bits) is the same, the concerts still feeldifferent. Why? Well lots of reasons, but mostly because they are different.
It is the audience. It is the particular night. It is the mood and energy level of the musicians. Heck, the barometric pressure. There are more variables at work than can be listed easily. This is why I want to steer clear from "transcendence" as an adjective for a performance like a concert or even like liturgy. You see, the variables are material, physical, emotional, personal ... inevitably "real." Their confluence encourages attentiveness or awareness. The awareness feels "otherly" because it is rather exceptional, but the truth is that what we feel as transcendence is actually presence — our presence in the moment, in the performance of music or liturgy.
The eschatological is not transcendence. It is, instead, the awareness of the whole of creation including our own place in it. It is awareness.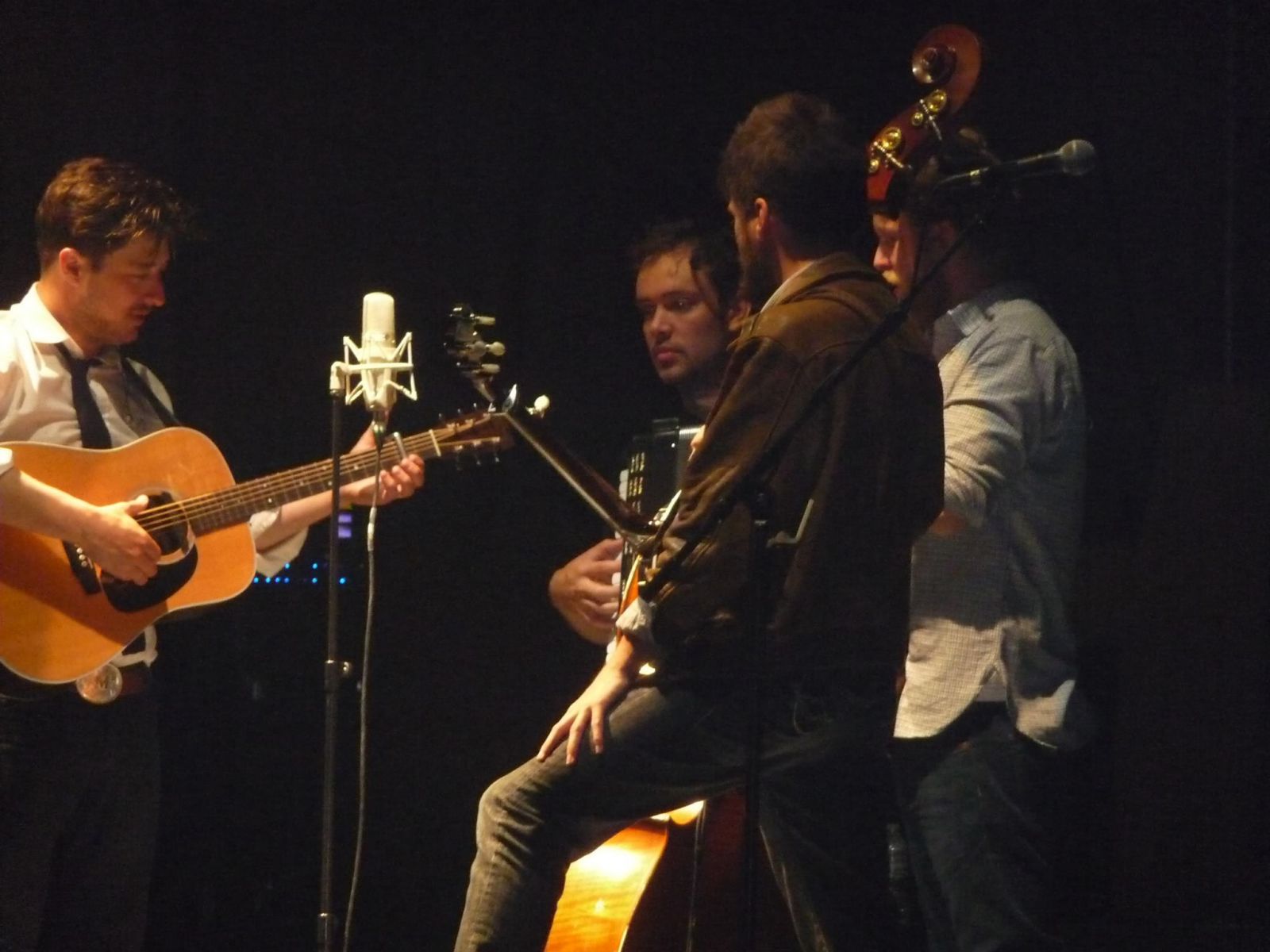 One example would be the act of listening intently. At the Friday concert, just like on Wednesday, the first piece in the encore set was "I'm on Fire" by Bruce Springsteen. The band switches things up. They unplug their instruments and gather around a condenser microphone (seen here, photo courtesy of Sara Gunter who was present at the same concert). Then Marcus does the unthinkable. He asks the amped up audience to be quiet so they can hear. He says, "This is not your time to make yourself known." Invariably someone hollers or shouts. Marcus is adroit at making even that interruption fun. But his goal is for deep listening. On Wednesday this was pretty effective. On Friday it was incredible. People listened. People sang along in parts quietly. It was profound. At the end the band were beside themselves. Marcus responded with complete gratitude. "Thank you so much. That's the best we've ever done that song. It is all because of you. Thank you so much!" He was effusive.
The audience (or the congregation) brings so much to any performance (or liturgy). As the people of the earth can enter into the city of God bringing what they have (Rev. 21) so too does the congregation bring all that they are to worship.
Spouse took this footage. Just thought I should share. One last thing...for those who think that concerts are just for listening and that we have lost the tradition of singing in large groups, I hope you heard all the singing. If that's not enough, behold:
Yeah. There's just too much to say here.
Tripp Hudgins is a doctoral student in liturgical studies at the Graduate Theological Union in Berkeley, Calif., and associate pastor of First Baptist Church of Palo Alto, Calif. You can read more of his writings on his longtime blog, "Conjectural Navel Gazing; Jesus in Lint Form" at AngloBaptist.org. Follow Tripp on Twitter @AngloBaptist.
Image: Mumford and Sons in New York on Feb. 6., Marc D Birnbach / Shutterstock.com