"Do you think he'll sing?" the girl in the row behind me wondered aloud.
"I hope so," the young fellow beside her said before continuing, "My dad would freak. He was a big fan of U2 when I was growing up. He used to play this one album, The Joshua Tree, over and over again."
His father was a fan.
I am a thousand years old, I thought to myself, as more Georgetown students filled the seats around me at the university's 111-year-old Gaston Hall, the main lecture hall on campus named after Georgetown's first student, William Gaston, who later served as a member of the U.S. Congress.
The hall, decorated with stunning art-deco-era frescos and the crest of every Jesuit institute of higher learning, has hosted many dignitaries over the years, including Presidents Obama and Clinton, Vice-President Al Gore, Secretary of State Hillary Rodham Clinton, and Supreme Court Justice Antonin Scalia, to name but a few.
"So if he's not going to sing, is he just going to talk," another student asked, with a distinct whiff of disappointment in his voice.
"I hear he's an awesome speaker, though," still another student said.
The students who packed the auditorium, many of them from Georgetown's Global Social Enterprise Initiative at the McDonough School of Business and more than a few donning black t-shirts with the insignia of the ONE Campaign (of which Bono is a co-founder), weren't sure what to expect from the famous Irish rock star and humanitarian.
A concert? A lecture? Another boring speech?
I'm fairly certain none of the students present for Monday night's event, sponsored by the Bank of America and The Atlantic magazine, anticipated hearing Bono, the 52-year-old lead singer of U2, preach.
But preach he did.
After an introduction by Brian Moynihan, CEO of Bank of America (whose presence was greeted by some grumbling from the students seated around me, one who suggested in a stage whisper that they start a chant from the Occupy Wall Street movement), Bono bounded up to the lectern, grinning with his blue eyes flashing excitement from behind his trademark rose-colored shades.
"Thank you, Brian -- a gentleman in a world where, uh, that quality is not always on tap," Bono began, as the crowd roared. "The band wanted me to say thank you to you too, Brian, because, as you heard, the band are committed to the idea that every school kid in Ireland should have access to free music lessons if they need 'em. So Brian has been helping us out with that."
(That seemed to quell any unrest about having one of the world's leading bankers in the room.)
"I don't know if this is a lectern or a pulpit," Bono told the crowd, folding his arms on the wooden podium in front of him, "but I feel oddly comfortable. It's a bit of a worry, isn't it? So ... welcome to Pop Culture Studies 101. Please take out your notebooks. Today we are going to discuss why rock stars should never, ever be given access to microphones at institutes of higher learning.
"You will receive no credit for taking this class," Bono joked, "not even street cred -- it's too late for that. I will, of course, be dropping the occasional pop culture reference to give the impression that I know where your generation is at. I do not. I am not sure where I am at."
Good. I'm not the only one who feels ancient amidst this audience of youngsters, I thought.
"And the first existential question of this class might be, 'What am I doing in [Gaston] Hall?'" Bono quipped. "I could be down having my third pint at The Tombs....Pop culture references. Rock star does research."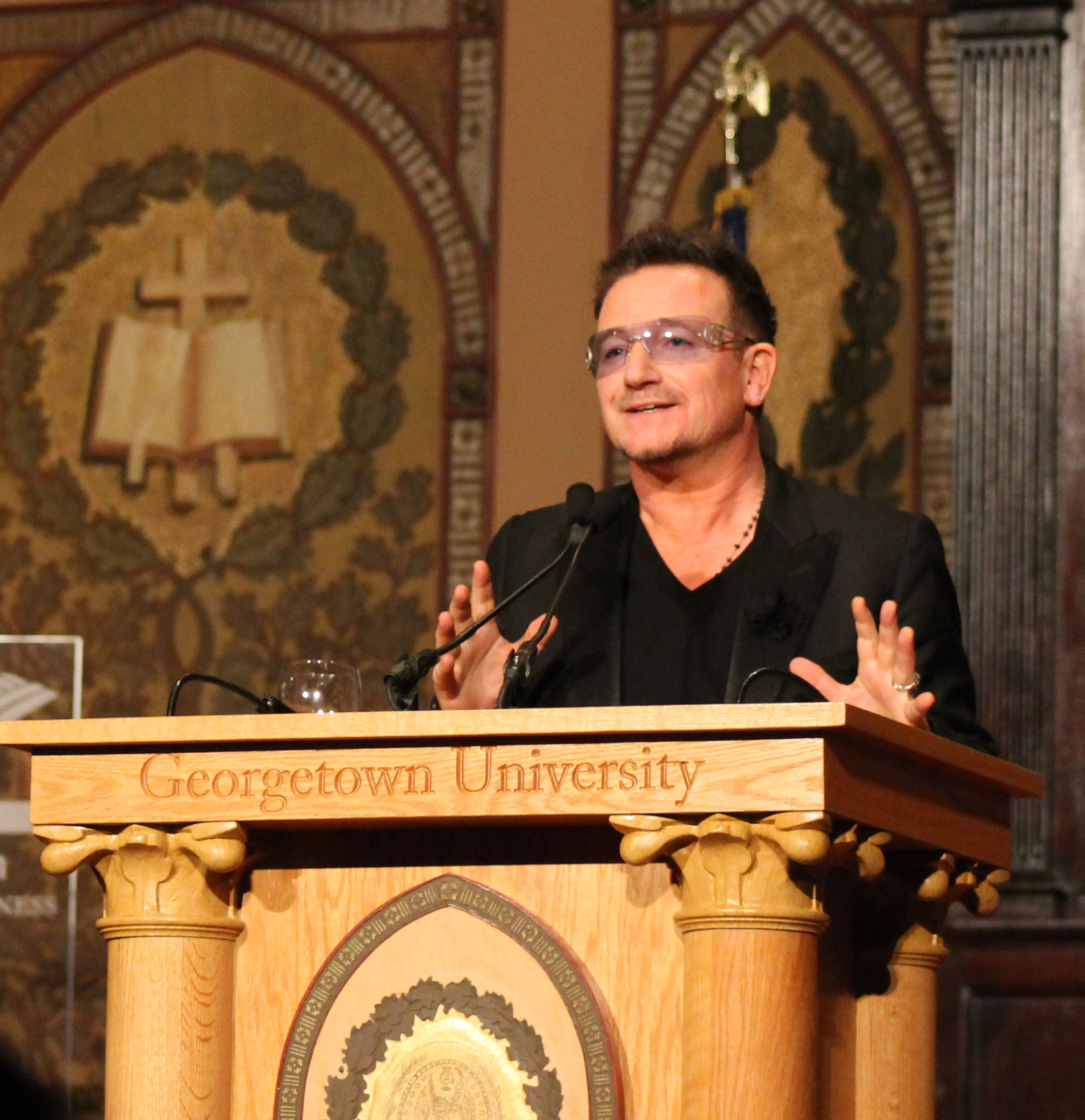 Score one for said rock star. The room erupted in laughter at the mention of one of the campus' legendary watering holes.
"I heard Election Night was quite messy on the pint front. Isn't it amazing how three pints can make everything seem like victory, but four or five and you just know you're about to taste defeat," he continued. "Anyway, congratulations are in order. Not just for turning out in record numbers, but -- forgetting politics for a minute -- for electing an extraordinary man as president. I think you have to say that whatever your political tradition."
Bono also congratulated the audience for being freed from the "tyranny" of political "attack ads." Imagine, he said, if they never went away, if attack ads were the norm for everything, even, say, college admissions.
"Hello. We're Georgetown and we approved this message," he said in the stoic voice of a political ad announcer. "Let me say a few words about some other fine institutions you might be considering. UVA: Thomas Jefferson, what have they done to you? Syracuse: A school whose mascot is a fruit. Duke: A school that worships the devil.
"Georgetown - you're in with the other guy! Georgetown has God on its side. Everyone knows God is a Catholic, right?" said Bono, whose late mother was a Protestant and late father, Bob, a Catholic. "Two words: Frank Sinatra. That proves it!"
All jokes aside -- and he was terrifically witty throughout his nearly hour long address -- Bono turned his attention to his true passion: helping the world's poorest of the poor.
"I'd like to hear attack ads on things worth attacking. If there was an attack ad on malaria, I'd get that, because 3,000 people die every day -- mostly kids -- of malaria. Let's have an attack ad on malaria. Let's have an attack ad on mother-to-child transmission of HIV/AIDS. I'd get that. Choose your enemies carefully because they define you. Make sure they're interesting enough because trust me, you're going to spend a lot of time in their company. So let's pick a worthwhile enemy, shall we?
"How 'bout all the obstacles to fulfilling human potential -- not just yours or mine but the world's potential?" he continued. "I would suggest to you that the biggest obstacle in the way right now is extreme poverty. Poverty so extreme that it brutalizes, it vandalizes human dignity. Poverty so extreme it laughs at the concept of human dignity. Poverty so extreme it doubts how far we've traveled in our journey of equality; the journey that began with Wilberforce taking on slavery and a journey that will not end until misery and deprivation are in stocks."
Were Bono an actual preacher, that was where he would have pounded his fists on the pulpit.
Painted on the wall behind the podium where this unlikely preacher of the Gospel of Social Justice spoke are the Latin words: Ad majorem Dei gloriam inque hominum salutem. Earlier, Georgetown's president, John De Gioia, reminded the students of their meaning: "For the greater glory of God and the betterment of humankind."
The Abolitionists. The Suffragettes. The Civil Rights Movement.
Social movements have always been powerful, Bono told the audience, but there is something special about this moment in history -- it's "transformative."
"This moment, this generation [has] the chance that you have to rid the world of the obscenity of extreme poverty. Wouldn't that be a hell of a way to start the 21st century?"
You could have heard a pin drop. The kids seated on either side of me were leaning forward in their chairs. They were listening with the attentiveness professors only dream about. Bono had their attention and kept it as he told them about the power they have to make changes -- significant, global changes -- by the conscious choices they make about how they spend their money, through social media and emerging technologies, by making sure their politicians keep the promises they've made about foreign aid funding in Africa and the rest of the developing world.
Something big was happening in the room. You could feel it. A palpable presence. I'd call it the Holy Spirit.
And it reminded me of a night 10 years ago at another college campus, when Bono spoke at my alma mater, Wheaton College in Illinois. At the time, I was traveling with Bono and his organization DATA (a predecessor of ONE) across the Midwest where he was trying to get American evangelicals (in particular) to turn their attention to the AIDS emergency in sub-Saharan Africa and to do something about it as a matter of justice -- as a matter of the heart of their own faith.
Bono's address at Wheaton fell about half-way through the Heart of America tour and it was a turning point not only for the tour, but for the movement it sparked. American evangelicals -- the great "sleeping giant," as Bono called them at the time -- woke up, got involved, and worked for change. The monumental successes in alleviating crushing debt, supplying life-saving HIV/AIDS drugs, malaria netting, and the funds to put millions of African children in school for the first time are a testament to what transpired in Wheaton's Edmund Chapel in early December 2002.
I know students who were there that night who've gone on to dedicate their careers and lives to helping the "least of these." I, too, jaded journalist and wounded evangelical as I was at the time, was changed. Healed. Inspired and transformed.
The same thing was happening in Gaston Hall last night.
"Those people I've been talking about today -- the poor -- they're not 'those people,' they're not 'them.' They're us. They're you," Bono said toward the end of his address. "They dream as you dream. They value what you value. There is no them, only us. The American anthem is not exceptionalism, it's universalism. There is no them. Only us. Ubuntu. 'I am because we are.' There is no them. Only us."
Maybe it's a sheer coincidence (I'm doubtful) that the motto of Georgetown, a Jesuit university, is Utraque Unum, which means "both into one."
Ultraque Unum in Latin.
Ubuntu in a dialect from South Africa where Archbishop Desmond Tutu -- the man Bono only half-kidding says he works for -- has taken the word as his own life's motto.
Bono turned his attention to the Jesuits and their founder St. Ignatius of Loyola, to whom that Latin quote on the wall of the Gaston hall often is attributed.
"St. Ignatius, he was a soldier," Bono began. "He was lying on a bed recovering from his wounds when he had what they call a conversion of the heart. He saw God's work and the call to do God's work. Not just in the church, in everything, everywhere. The arts, universities, the Orient, the New World. And once he knew about that, he couldn't unknow it.
"It changed him," Bono said. "It forced him out of bed and into the world. And that's what I'm hoping happens here in Georgetown with you. Because when you truly accept that those children in some far off place in the global village have the same value as you -- in God's eyes or even just in your eyes -- then your life is forever changed. You see something that you can't unsee."
Sitting there, tears dripping down my cheeks, I could feel it. Minds were opened. Hearts and eyes were, too.
Who knows when we look back 10 years from now, what the result of some of those Georgetown students seeing what they couldn't unsee will be.
May we all have the eyes to see it.
Watch Bono's full Georgetown address below:
Cathleen Falsani is Web Editor and Director of New Media for Sojourners. Follow Cathleen on Twitter @godgrrl.
Got something to say about what you're reading? We value your feedback!