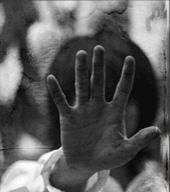 As I set foot in China, many emotions invaded my thoughts. I guess you could say I was somewhat nervous. My last visit to China involved being detained for a day on suspicion of helping North Korean refugees -- an "offense" punishable in China with up to three years in prison.
Despite my apprehension, as I landed in China again this September, I was excited at the prospect of meeting with more North Korean refugees who had been forced into hiding. Thankfully, I was able to visit refugee shelters without opposition, and there I heard many tragic stories -- one of which I simply have not been able to forget.
Mary is 27 years old. It has only been a few months since she escaped from North Korea, as food shortages in her village claimed the lives of her entire family.
Unsure about how to cross the river that divides North Korea and China, she hired the services of a broker to escort her across. When she reached China, a peculiar exchange took place. Money was traded between two men and before she knew it, Mary was ushered off by an unfamiliar Chinese man.
China's almost 30-year-old "one child policy" has resulted in a dramatic disproportion between the male and female population. By 2020, there will be a shortage of 30 million women in China which, along with the increasing number of North Korean refugees, has led to high volumes of sex trafficking along the China-North Korea border. Over 70% of North Korean women are vulnerable to trafficking.
Mary described her "marriage" with her Chinese husband: "I am treated well, but I work seven days a week farming. At least I am able to eat."
When I asked her what her dream was, she responded eagerly, "I want to finish my education of course. I had to drop out of school in the 6th grade. Hopefully, I will go on to university and then teach. But I don't think this will be possible since I cannot go to school here in China. I'd have to try and escape to South Korea, but I can't afford that journey right now."
When she talked about going back to school and living in South Korea, her expressions were for a brief moment bright and hopeful. But her tone quickly deflated as she shook her head and told us, "This will never be possible even if I worked for the next 10 years. It's just not an option."
As I left the shelter that night, Mary's words stuck with me and I couldn't help thinking of the hundreds of thousands of other North Korean refugees hiding in China who are left feeling the same way -- that they simply have no options.
The journey Mary spoke of involves traveling thousands of miles through a modern day "underground railroad" that goes from China to a Southeast Asian nation that will allow refugees to seek asylum or resettlement. The cost of the journey quickly adds up, and on average, can cost $2,500. Mary cannot afford such a journey and will continue to live in fear of being sent back to North Korea where her punishment may involve torture, imprisonment, or possibly execution for having left North Korea.
Although North Korean refugees are caught by Chinese authorities and repatriated weekly, we realize that we have the opportunity to change that fate. We've decided to help by offering Mary an option: a way out of China. But we aren't going to stop there. We will attempt to help others in hiding by bringing 100 refugees to freedom as soon as possible. It's going to take all of us to make it happen, but many small efforts by many people are all we need. Together, we can literally change the course of their lives.
Justin Wheeler is the Vice President of Global Awareness at LiNK, or Liberty in North Korea. If you are interested in joining our cause and want to learn more about how you can help with their rescue, check out the campaign here.
*Mary's name has been changed to protect her identity.