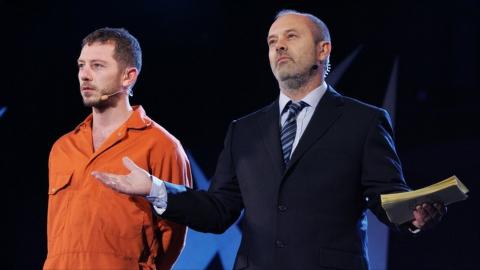 The music of Manchester, England is, for me, the soundtrack of my college years. The Smiths. Joy Division. Oasis. James. The Happy Mondays.
It was the music I danced to in Chicago nightclubs, the songs of seeming disillusionment that I walked around campus listening to (on cassettes and "cassingles" -- remember those?) on my Sony Walkman.
I love that music that put a spring in my step and gave voice to my youthful ennui. But I had never thought of it as particularly spiritual music...that is until earlier this week when my charming British colleague, Jack Palmer, brought to my attention The Manchester Passion, an hour-long 2006 BBC special broadcast of a massive public reenactment of Christ's passion and crucifixion staged in a public square in Manchester set to the music of that enigmatic northern city in England.
The Manchester Passion took the music and lyrics of The Smiths and their Manchunian contemporaries and used them -- brilliantly and powerfully -- to retell in a thoroughly modern milieu the greatest story ever told.
Suddenly, lyrics such as "In my life, why do I spend valuable time with people who don't care if I live or I die? ... Heaven knows I'm miserable now," spoken by Judas Iscariot sounded wholly different to my ear. Hearing Jesus, surrounded by his sleeping disciples in the Garden of Gethsemane, sing, "Drawn by the undertow, my life is out of control, but I believe this wave will bear my weight so I will let it flow...Sit down next to me in sympathy," brought tears to my eyes.
Manchester's Passion includes not only theatrical and musical retellings of the Passion, it also contains broadcast-news-style live reporting from the street where a crowd of several hundred carried a lighted 8-meter cross through downtown Manchester to the square where thousands more were gathered. One of these man-on-the-street interviews, with a fellow named Dougal who traveled down from his native Scotland for the event, provided my favorite moment in the broadcast. Dougal, a tall, bearded, heavily pierced lad, is a "punk" and he's alo a born-again Christian. The BBC reporter asked him why he felt compelled to attend the Passion event.
Christianity and punk, he explains, both see the world from the point of view of outsiders. "Jesus is an alternative to that and punk is an alternative to a lot of the nonsense that goes on in society as well," says Dougal, who became a born-again Christian at the age of 21.
The reporter asks him if Jesus were here today would he be found among "in the punk fraternity,' Dougal answers immediately: "Aye, aye. I think he'd be right there. I think Jesus loves all the freaks and the weirdos. When he came 2,000 years ago, he didn't hang about with all the cool people and the folks who thought they were great. He just came for the freaks and the weirdos and I think he'd be right in the middle of the mosh pit."
The Manchester Passion is a great gift to music lovers (of all stripes) and believers alike. As we approach Good Friday and, ultimately, the triumph of love over death on Resurrection Sunday, I hope you'll take an hour to watch and listen.
May it bless you on your sacred journey.
The Manchester Passion
Listen to the 15 songs included in the Manchester Passion via iTunes HERE or via Spotify HERE.