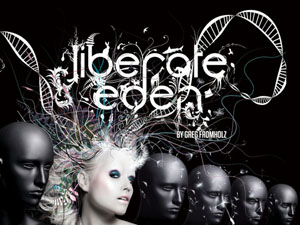 "The man who can articulate the movements of his inner life," the late Christian apologist and author Henri Nouwen said, "need no longer be a victim of himself, but is able slowly and consistently to remove the obstacles that prevent the spirit from entering."
Throughout the ages, how Christian believers have chosen to articulate their inner lives has had many manifestations in literature, music, architecture, and other artistic endeavors.
As a means of communicating and wrestling with his inner life -- his journey of faith -- Greg Fromholz, an American expatriate youth worker for the Church of Ireland in Dublin, wrote a book titled Liberate Eden, but traditional publishing houses found that his work was a bit too iconoclastic for their tastes.
"It is just too different to be Christian," one publisher pronounced.
Undeterred, 40-year-old Fromholz, a native of Michigan who has lived in Ireland for the last 21 years, decided to take his book, a spiritual memoir of a kind that he describes as "theo-poetics," in a wholly unconventional direction.
This spring, Fromholz, who directs the Church of Ireland's 3Rock Youth program, published Liberate Eden in a digital-only format for iPad, iPhone, and iPod. The text of the book, written in lyrical, daringly self-revelatory prose, is interspersed with music and video of the author -- sometimes speaking, sometimes not.
In a video clip that accompanies the chapter "Sleepwalker," Fromholz awakens at 7 a.m., puts on a blindfold and goes about his day. The video concludes with the author running through the streets of Dublin on a rainy night, still blindfolded.
"He is comforted by his lack of sight," Fromholz writes. "We have become so arrogant, cocky, and comfortable, believing ourselves to have cornered the market on faith, or invented the Starbucks of Christendom. We first need to, indeed must, shake ourselves free from the belief that we have all the answers and need to acknowledge that God is much bigger than our churches, our egos and us.
"Do we possess the message of Christ or does it possess us? Repeat after me: I do not have all the answers