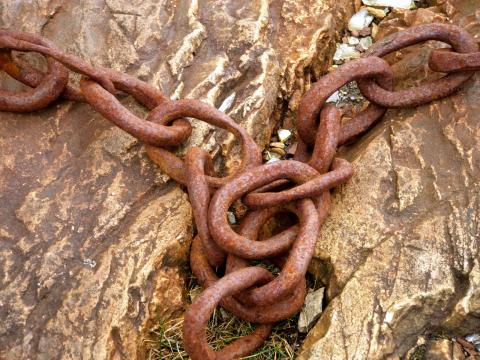 Howling wind whipped my long, unruly hair in penitent lashes across my face as I stood in the rain, staring at the churning sea at the northernmost point of Ireland. This place, Malin Head in County Donegal, for some mysterious or mystical reason — perhaps because it is such a broody, dramatic place, or maybe it's got something to do with ancestry, or both — is the spot I love most in the world.
It is a wild land, the kind of place where myths are born, where giants and saints might come bounding over the next hillock followed by a troupe of little people or a herd of magical sheep.
Whatever the reason, I feel at home here and have returned time and again over the last 15 years, drawn to stand on its rocky cliffs like water to the shore.
At the very tip of Malin Head is Banbha's Crown, named for one of the legendary goddess-queens of Ireland. Here stands a tower that from a distance looks as if it might be the ruins of a castle fort but is actually a signal tower built in 1802 by the British and used during World War II — along with several small huts and the word EIRE (one of Ireland's ancient names) spelled out in a meadow along the cliff in letters formed by thousands of white rocks piled together — as a navigational and lookout point to protect Ireland's neutrality. (Ireland was a neutral nation during the war.) A bit farther down, tucked into the cliffs where the Atlantic roars against the rocky land, is the Wee House of Malin, a cave that is said to have been the hermitage of St. Muirdealach. According to lore, no matter how many people entered St. Muirdealach's cave, there was always room for more.
I first came to Malin Head when I was twenty-three years old, just prior to beginning my first year of graduate work at seminary. It was my first trip to Ireland, the island my grandmother Nell left in the early 1920s when she was about the same age on a ship bound for Ellis Island and a new life in America. In fact, I was the first member of the family to return to Ireland since she had left. I never knew Nell. She died giving birth to her fourth child when my mother, Helen (named after her mother), was three years old. Still, Nell had been a palpable presence in my world, precisely, I think, because of her absence from my life and, more important, from my mother's. My grandmother was one of 21 children born to my great-grandfather, Andrew Brady, who was married twice. His first wife had 11 children before she died, and his second, my great-grandmother, Mary Ann, bore another 10. As a result, I have loads of family left in Ireland, and I took that first trip to the ancestral homeland, in part, to find them and reconnect.
That first journey to Ireland was one of many firsts. The first member of my family to come "home" from America. The first trip I'd ever taken alone. The first time I'd gone by myself to dinner in a restaurant, had a drink alone in a pub, and ventured out solo to a nightclub to dance. My first experience driving on the left side of the road in a car with its steering wheel on the right. I spent three weeks in Ireland and would go whole days without speaking to another soul except the kindly proprietors of the bed-and- breakfasts where I stayed each night. It was the first time I'd spent that much time alone in my life, and it was at times harrowing, alone with my thoughts for hours at a time as I drove through some of the most spectacular scenery I'd ever seen before or since.
I found this island breathtakingly beautiful, so much so that as I motored through the west of Ireland, I regularly had to pull over to the side of the road to weep.
"Grace to me is a little bit of extra help when you're feeling stuck or doomed or, probably, hopefully, out of good ideas on how to save yourself, and how to salvage the situation or the friendship or the whatever it is," Anne Lamott once told me. "I wish it was accompanied by harp music so you could know that's what was happening, but for me it's that extra pause or that extra breath or that extra minute's patience against all odds." On that first trip to Ireland, grace — the kick-in-the-pants, clarifying, cosmic pause- button kind of grace — didn't just have a harp. It had an entire soundtrack, a two-volume set of traditional and contemporary Irish music called Bringing It All Back Home. I listened to it nonstop for three weeks and am on my third copy of it now, more than 15 years later. Certain songs remind me distinctly of particular places in Ireland. Mary Black's gorgeous ballad "No Frontiers" — And heaven has its way / Heaven knows no frontiers — is a back road on the outskirts of my grandmother's village where the ruins of our tiny ancestral home can be glimpsed from inside their cage of ivy and brambles. "Oileán/Island," a seven-minute instrumental performed by pianist Mícheál ÓSúilleabháin and the Irish Chamber Orchestra is a sunset drive from the Cliffs of Moher to the seaside town of Doolin in County Clare. And "Equinox," a haunting instrumental by Davy Spillane, the famous Irish uilleann piper and low whistle player, is the long, serpentine approach to the tip of Malin Head.
What is it about this place that tugs at my soul, pulling at it like a spiritual magnet?
It can't be ancestral ties, as my grandmother surely never set foot here. Nell was from a village in the middle of Ireland, a border town in County Cavan's lake district called Ballyjamesduff (where a couple dozen of my cousins still live) about 100 miles from Malin Head. Still, there is a mystifying connection here for me. Even on that first visit I felt like I'd been here before, as if part of my spirit resides in this wild land.
Of such places, in his poem "In Transit," W. H. Auden described that kind of bond between person and place far more eloquently than I could. He wrote:
Somewhere are places where we have really been, dear spaces
Of our deeds and faces, scenes we remember
As unchanging because there we changed
When I stand in Banbha's Crown, the link I feel to its physical space is rooted in the association it has for me with change, be it a powerful transformation that has just occurred or one about to transpire. It's a place where I've faced down my fears (temporal and eternal) and had visions of the future, good and bad. The first time I visited Malin Head, I spent a couple of hours strolling along the cliffs, gathering white stones, as is the custom, to spell out my initials and those of the young man I was in love with at the time and presumed I would marry one day in the not-too-distant future. I overcame a lifelong fear of heights in this place because in order to really experience it in all its drama and power you have to get close to the edge and look down where a gaping maw in the cliffs is hewn out by crashing whitecaps of a slate blue sea. You have to get close to the edge to be truly at the farthest point north. You have to get close to the edge to be at the end of the earth, at the top of the world, at the verge of oblivion where the land drops off into the water and whatever lies beyond it.
The second time I made the trek to Malin Head, I was with the not-so-young man I fell in love with and married four years later. We were on our honeymoon, and I had a fierce head cold that would, the next day, turn into a vicious bronchial infection and send me to the emergency room of a hospital in Derry, Northern Ireland. I made the hike down to the meadow on the cliffs with an asthma inhaler in one hand and a fistful of tissues in the other, my new husband keeping a watchful eye on me as I scrambled unsteadily over the rocks. I remember how fearless my husband was that day on the cliffs, how unafraid he was of the cliff's edge, of edges in general. It could be a false recovered memory, but I seem to recall him lying on his stomach and sticking his head over the edge of the cliff into a particularly dramatic abyss called "Hell's Hole" and laughing as the Atlantic jettisoned sea spray from the stony breach. I remember how dashing and handsome he looked, how in love with him I was and still am, even though I was afraid of the unknown, of what might happen next in the life we had just begun together, as much as I was afraid of him being blown off the cliff by the gales that blow through Banbha's Crown.
It is said that Malin Head is the sunniest spot in all of Ireland — nothing to cast a shadow, I suppose. On this overcast day, there is no sun. But there is clarity.
I wonder what has this Celt knotted, what I am afraid of this time. As always, it is a certain fear of the unknown, of change
and evolution. Of what I have become in the fifteen years since I first stood in this spot. Of what I will be thinking about fifteen years from now. If I will be standing still, taking stock of the past, gracespotting — and what I might find if I do.
I took my most recent trip to Malin Head to try to figure out in my head what my heart already knew — what ties me to this mystical place. I am alone now in Banbha's Crown. The only other visitors — a couple of Irish pensioners eating lunch and reading the tabloid papers in their car — have left. I can hear the wind before I feel it. And the roar of the ocean. And the call of the corncrakes and gannets. Bathed not in sunshine or rain, but in a shower of grace.
Alone at the edge.

A soundtrack playing in my mind.

Looking.

Longing.

Ready.

For whatever comes next.
Cathleen Falsani is Web Editor and Director of New Media for Sojourners. This post is adapted from Cathleen's memoir, Sin Boldly: A Field Guide For Grace, and was written largely at Mrs. Josephine Martin's guest house, Mont Royd, in Carrigans, County Donegal in March 2007. Follow Cathleen on Twitter @GodGrrl.
(All photos by Cathleen Falsani. Taken at Malin Head, County Donegal, Ireland on March 2007.)