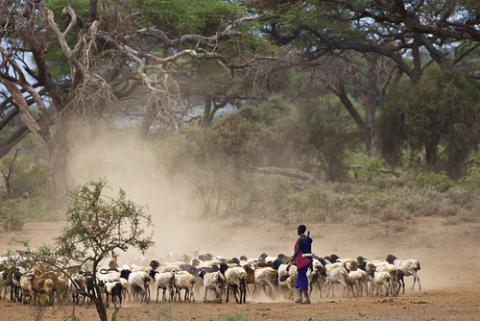 We have come to Kenya to hear our brothers and sisters bear witness to the ways environmental degradation and recent changes in the climate are harming them. Their testimony is disturbing and compelling. We are privileged to hear their stories, and honored by their trust in us as bearers of the message that they and their land, water, and air are suffering. Their words are a painful reminder of the brokenness of our world.
It is the most vulnerable in our world who suffer primarily and predominately from climate and other environment-related problems. While here, we are reminded that it is the poor who are affected first of all, and most of all, by these problems. The loss of one season's crop can be catastrophic for those who live on the margins. Today, we are looking at massive dislocations in the ecosystems which sustain our world and all the life on it. Of these dislocations, the world's poorest bear the brunt.
It is good and important for us who are layered with the privileges and protections of wealth and power to listen carefully to the voices of those who are much less privileged and protected. There is no possibility here for any delusional denials that the earth and its peoples are not facing enormous and unjust environmental challenges. We may not simply dismiss the testimony of our brothers and sisters as misplaced, imaginary, or exaggerated.
The issues are certainly complex and the legitimate debate about the extent to which these problems are man-made will be ongoing. However, there is no doubt that some of us extract and use up a disproportionately high amount of the Earth's resources for our own consumption and that this consumption contributes significantly to our current global environmental challenges.
Being followers of Jesus, we know that we cannot be responsible citizens of his Kingdom without also being responsible citizens of the global human community and servants of his creation. Dr. DeWitt has reminded us that failing to truly love and serve God's creation is one of humanity's greatest sins.
We wonder now what we multi-privileged people should do when we hear the cry of our sisters and brothers in Kenya, knowing that the Lord also hears their cries. Clearly, charity is not enough. We wonder what it means for the CRC in North America to act justly in this situation. There will be no one, simple answer to that question, but certainly we do not have the moral option to hide behind our privileges which protect us, at least partially, for now. It is the obligation to preach the gospel which compels us — the good news preached to the poor.
While in Kenya, we have also heard the testimony of the ministry of God through his church. This has been very encouraging for us. It is our honor and our calling to celebrate this working of God and to come alongside our Kenyan friends in the solidarity of our Christian identity and mission. Perhaps in dialogue with them and many others throughout the world, we as God's united family can find practical ways to voice a common testimony bearing witness to our Lord's provisions for us and his entire creation as we face the common challenges of the degradation of our environment and climate change.
Albert Hamstra
is Global Impact Director for Christian Reformed World Missions. This post orginally appeared at World Renew's
Volunteer Blog
.