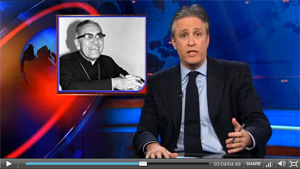 Jon Stewart has pointed out that one of the revisions of the recent Texas high school curriculum controversy is the omission of Archbishop Oscar Arnulfo Romero from a list of great political/moral figures of the twentieth century. It saddens me to think that there was an opportunity for a new generation of students to be introduced to his positive influence on the world and it could pass quietly in the night.
[Start at 2:25 to skip some opening potty humor and go straight to the Romero segment]
I did not learn about Archbishop Romero until I was a student in seminary, and once I read his words and learned the way he lived them out I was convinced of the way of Jesus Christ more fully than I had been before. It pains me to think of how different my life may have been if I had learned of him earlier than I did. Another generation of students has been deprived of evidence of the power and efficacy of nonviolence and a commitment to justice in bringing about positive change in the world. This is a reason for lament.
Romero was Archbishop of El Salvador for only three brief years, but his impact continues to this day. In the midst of dire poverty and rampant violence, Archbishop Romero never wavered from publicly preaching nonviolence and the Christian commitment to the poorest of the poor. He did not waver when intimidated, and he loved both the poor and the enemies of the poor. He brought international attention to the gross human rights violations in El Salvador and was a living witness to the gospel of Jesus. His life is recent evidence of the power of the message of Jesus to transform individuals, communities, and social structures. Every Christian can learn from his example.
On March 24, 1980 -- precisely thirty years ago next Wednesday -- as Archbishop Romero prepared to administer the Eucharist during the memorial service of the mother of a friend, a single bullet pierced his chest, splintered, and struck his heart. He died a martyr and saint of the poor in El Salvador, remembering and imitating the death of his Lord who refused to use violence while bringing good news to the poor of his time and place. Archbishop Oscar Romero was one of the great moral and spiritual leaders of the twentieth century. His testimony and commitment to peace and justice was a bright light in a land of oppression, and his example continues to illuminate the often overlooked efforts of countless Christians who draw on his life and teachings for motivation and encouragement in the never-ending struggle for a better world. His unswerving commitment to the poor in his country flowed from his love and imitation of Jesus. And it is a continuing injustice that more do not know his story or teachings. (A summary can be found here.)
I close with a few words from Archbishop Romero for reflection:
I will not tire of declaring that if we really want an effective end to violence we must remove the violence that lies at the root of all violence: structural violence, social injustice, exclusion of citizens from the management of the country, repression. All this is what constitutes the primal cause, from which the rest flows naturally.
And:
Peace is not the product of terror or fear. Peace is not the silence of cemeteries. Peace is not the silent result of violent repression. Peace is the generous, tranquil contribution of all to the good of all. Peace is dynamism. Peace is generosity. It is right and it is duty.

Jimmy McCarty is a doctoral student at Emory University studying Religion, Ethics, and Society. He blogs at jamesmccarty.wordpress.com.