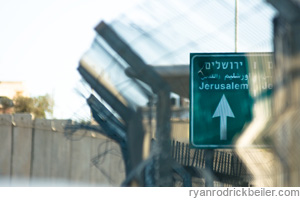 Often when Sojourners addresses issues relating to Israel and Palestine, we're accused of anti-Israel bias. This often comes from those who are unable to separate criticism of the Israeli occupation of the Palestinian Territories, or of the Israeli military's disproportionate lethal responses to terrorist violence, from the kind of anti-Semitism that questions the very existence of the State of Israel.
Thankfully, there are strong, clear Jewish voices in the U.S. and Israel that are capable of making those distinctions, and offering their own courageous criticisms of policies that are counterproductive for the true peace and security of Israel. One such voice is Jeremy Ben-Ami, head of J Street, a relatively new progressive Jewish organization that describes itself as "the political arm of the pro-Israel, pro-peace movement."
According to the Israeli newspaper, Haaretz:
Ben-Ami was born to a right-wing Zionist family. His grandfather immigrated to pre-state Israel more than a century ago. His father, a member of the Etzel pre-state underground militia under Menachem Begin, was on board the ship the Altalena when it was bombarded and scuttled by the Israel Defense Forces. His parents are buried on the Mount of Olives and he himself has lived in Israel for several years.
Rather than say more about Ben-Ami and his organization, I'll just offer some key passages from a recent speech he made at the launch of a major J Street organizing initiative. (You can also watch full video of the speech, or read the transcript.)
He starts by lamenting the current state of dialogue:
Maybe you're fed up