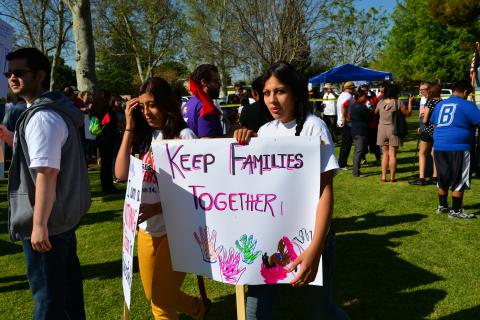 "All persons are caught in an inescapable network of mutuality, tied in a single garment of destiny. Whatever affects one directly affects all indirectly. I can never be what I ought to be until you are what you ought to be, and you can never be what you ought to be until I am what I ought to be." - Martin Luther King, Jr.
When my husband Billy and I married, he was a supervisor for underground drilling construction crews. It was hard work, but he enjoyed the fast pace and his team. Most of the workers, including Billy, were undocumented immigrants, working illegally in the U.S.
I was nervous. My new husband was driving giant construction equipment all over Southern California without a valid driver's license. I knew one mistake could result in deportation and our sharing life together in Guatemala.
I expected exploitation and injustice. So while I was angry when situations arose, like not getting paid for a month's worth of work, I can't honestly say I was surprised. What did stun me, however, was a bizarre experience with Billy's boss.
Billy had worked for James for a little over a year when a series of broken promises encouraged Billy to look elsewhere for a job. He found a company familiar with his work and willing to make him an offer. He politely turned in his two week's notice.
James was not happy. In fact, he told Billy not to bother working the final two weeks. Then he did the unthinkable: he called and reported Billy's immigration status to the authorities.
I couldn't believe that a man who had referred to Billy as his "son," could deal such a vindictive blow when he felt slighted. The slippery serpent of injustice whispered in his ear that he "owned" Billy. That if he couldn't have him, no one could.
It was true that when James hired Billy, his tourist visa was expired and he lacked proper documents. What James had failed to notice, however, was that Billy took a week off for his wedding to an American citizen (me). He didn't pay attention when Billy took days off for his immigration physical and interview. James didn't realize that Billy was now legally authorized to work in the U.S.
Imagine James's shock when immigration officials informed him of this fact. Maybe shock isn't the word. Maybe it's rage.
Undaunted, James continued his retribution, calling Billy's new employers. He told them Billy was undocumented, though he now knew this information was a lie.
This malicious act had more frustrating consequences. The company decided to "wash their hands" of the affair. Rather than accept the documentation Billy offered, they chose instead not to issue him any more work.
It was easier for them to reassign work than to approach such a volatile topic. Besides, do they want to start looking into the legality of those working on their projects?
Billy eventually straightened out his work situation. But the anger James harbored would endure for months. Former co-workers would update Billy, saying James talked about him all the time. He asked the other workers about him and was still furious.
James' reaction made me sad, and a little bit scared. The man already tried to have my husband deported from the country. What actions were off-limits?
A broken immigration system holds James in bondage. He does not know how to work alongside people he cannot control, threaten or frighten. He is obsessed with an independent employee who wouldn't tolerate dishonesty and made his own choices.
We are tied in a single garment of destiny. What affects our immigrant brothers, sisters, husbands and neighbors affects us all. May this interrelated reality bring us together in a united stance for justice, peace, and dignity.
Sarah Quezada (@SarahQuezada) lives in a talkative Spanglish household with her Guatemalan husband Billy and their two amusing kiddos. She is a writer on multicultural life at her blog, A Life with Subtitles.
Image: Immigration rally in Bakersfield, Calif., Richard Thornton / Shutterstock.com