On the opening night of the second Wild Goose Festival late last month in Shakori Hills, N.C., the dancing hadn't started yet.
The fabulous parades and the frenzied-yet-friendly almost-moshing were yet to commence on the grassy playscape in front of the main stage. Before things got wild for us goslings, we had to unpack our musical expectations and pitch a tent large enough to welcome the broadest of folds.

Kicking things off was Josh Garrels, who brought his smoothly smoky-folky sound with its pleasant rasp that recalls adult-alternative icons like Ray LaMontagne and Amos Lee. Following Garrels, former frontman of the band Caedmon's Call and current experimental multi-genre provocateur Derek Webb pushed at the already broad boundaries of the Wild Goose aesthetic.

With several funny, yet biting, remarks during his plenary setlist, Webb outright rejected the "Christian music" label and bathed our brains with songs such as "A New Law," the 2005 sarcastic anthem where bold freedom and blind faith wrestle it out for the soul of contemporary Christendom. Webb threw down a gauntlet with lyrics such as, "don't teach me about loving my enemies/don't teach me how to listen to the Spirit/just give me a new law."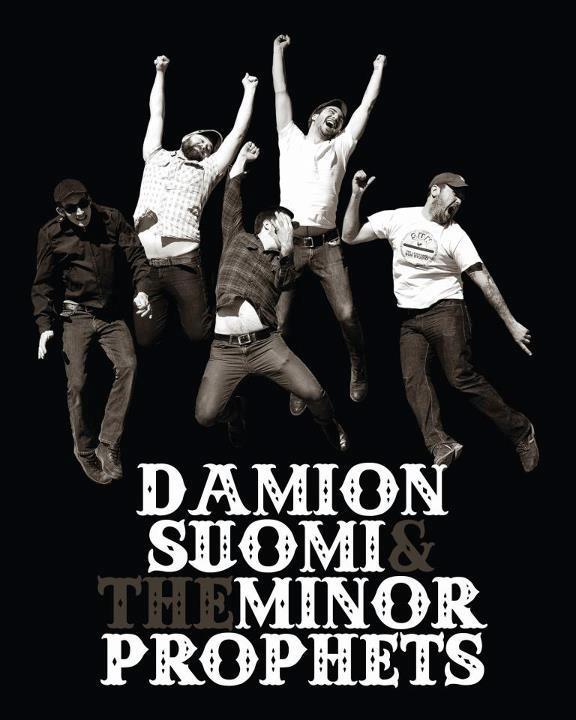 But on Friday, with fiery folk rock a la R.E.M. or Wilco, Damion Suomi and the Minor Prophets fired back a response. "The Lion, The Ram & The Fish" served up an antidote as we negotiated our weekend-long truce in the culture wars with this refrain: "Love your God with your heart, love your neighbor as your own, and the rest is just a guess as good as mine."
Theologically and politically speaking, the results remain unsettled in this temporarily suspended battle within the body of Christ, but musically speaking (thanks to Goose curator of sound Todd Fadel) we did this scrap-and-grapple with the guts, grit, and gravity of sonic glory.

Sadly, too much of today's so-called "praise-and-worship" music sucks the humanity out of our adoration and contemplation, leaving us with a sugary synthetic salvation that's all Easter lilies and neutered lambs. But not here, not at Wild Goose, where hope heard itself in the holy hollers that fit its wooded hollow.

Thanks to Fadel's own sloppy "jalopy gospel" grooves, found within the shimmering shouts and shivers of his family band Agents of Future, Wild Goose gave us cutting-edge art that doesn't compromise the head or the heart. The so-called "alternative Christian" music scene has come a long, long way since Larry Norman lit a fire among the Jesus People with "Why Should The Devil Have All The Good Music."

In a sense, this postmodern Woodstock-apallooza-roo for the progressive church managed to distill, but not dilute, the deepest vibes that made early Christian rock such a compelling tangent of the '70s psychedelic music scene. Goose fans ought give generous tips of their wide-brimmed sun-caps to Fadel for filling out such a phenomenal lineup.

Although Fadel always seemed to be helping the other bands while perpetually spiriting across the festival grounds on the wings of a golf cart, he slowed down long enough to sing acapella during the festival's opening ceremony, helping to lead the now legendary Beer and Hymns events, and arranging for Agents of Future to team up with Nashville blues professor Dave Perkins in a jamming late-afternoon set.

Some of the bigger names on the bill — musical luminaries such as Jennifer Knapp and David Crowder — spent as much time telling stories as singing songs, taking great strides in erasing that elusive and invisible line between performer and stage.

Every artist ostensibly shares this goal, but Wild Goose is a small enough festival with enough of a dialogic, horizontal ethic built into the fabric of its infrastructure to make this aspect even more real and realizable. Let's just say that sunlight, humidity, insects, and port-a-potties are great democratizers.


The daytime shows in the side-tents each had this coffeehouse revival or down-home salon vibe, while late-night slots in the Performance Café — from Rev. Vince's DJ slots to Ric Hordinski's fusion jams — were the most dreamlike for us, as musicians serenaded us to the edge of sleep as many of us listened (even with earplugs) from our nearby campsites.

Tent shows showcased Over The Rhine reminding us about sacred romance with their "earthbound love song" called "Johnny & June." The Man in Black made another cameo in John Francis's feisty singalong "Johnny Cash On The Radio."

The lush Liz and the Lions were a swooning surprise at a late-night Open Mic. The tempestuous "talk music" of Listener rattled our consciousness with Henry Rollinsesque slam-poet-street-preacher-guitar-noise.  And while all the music could qualify as poetry, Aussie Joel McKerrow's audible confession/rants reminded us why unplugged MC bards are as rock-n-roll in their art as any guitar band.

As has been duly noted in other reviews, the Mumford-flavored choir of benevolent chaos channeled by the band David Wimbish and The Collection Family Band provided one of the great surprises of the entire festival. Their no-holds-barred barrage of jangle-folk jamboree stretched our indy-pop parameters and reset our musical barometers for even more unexpected blessings.

The opening medley of "Brother" and "My Country Tis of Me" profoundly demonstrated the fierce grandeur of their entire set. The latter song smashes the idolatry of consumerism on the altar of self with seething couplets such as "You like the price, so you buy the whole rack/Did the things that you love ever love you back?" The song doesn't leave the listener wallowing in the shallow backwaters of our supposedly disenchanted age, but rather calls us back to an ageless wonder: "I met a Father who's better than mine, he loves like a mother and doesn't know time."
http://youtu.be/JWQUJaDytgQ

The intimate, joyful dance parties that began at the Performance Café finally found their way to the main stage for Saturday's dirty gospel throw-down. Rev. Vince Anderson and His Love Choir are all Brooklyn-barroom-and-baptismal fount — a rich stew of traditional medicinal meets urban soul food that received a friendly reception from the swaying crowd. Their entire set, including a reconfiguring of Springsteen's "Atlantic City" as resurrection song, reminded us that we never would have had rock-n-roll were it not for the mixed marriage of gospel and blues percolating not just in the big cities of the Midwest but in the backwaters of the deep south as well.

After an interlude of amazing preaching, Naomi Shelton and the Gospel Queens concluded the Saturday night revival in the same spirit of arm-waving rapture with which the evening had begun.

The Sunday night sets that closed the four-day festival suffered somewhat from fan fatigue and early departures. But those who stayed to listen were treated to so much sweetness that for many of us, tears of gratitude and joy poured forth. In a world where too many days feel like a Monday, who doesn't want to bask in the twilight of a Sunday that seems like it could go on forever if we'd just let it.
http://youtu.be/I1B-cpPyhYQ

Given that the David Crowder Band recently concluded its farewell tour, the two-man Crowder acoustic set felt like a huge score for the festival — an uncommon grace stolen from the hands of fate and time. Crowder's offerings included the perfect-for-an-outdoor-fest lines of "Open Skies": "Praise Him under open skies/Everything breathing praising God/In the company of all who love the King/I will dance, I will sing."

Our last show of the weekend was Gungor, and this band was one big reason many of us stayed as late as we did. I'd already paraded my "God Loves Everyone" t-shirt around the festival grounds earlier that day and wore it for a grown-up-fanboy
photo-op with lead singer Michael Gungor.
With a stripped-down four-piece version of their band, the Grammy-nominated alt-rockers treated the Goose to a generous (if too short) set of hits. Both the funkily earthy exposition of "Heaven" or the blast of grace in "Beautiful Things" could have served as the capstone song of the weekend. But the surprise of Gungor's set came from the back his prolific catalogue — "White Man" — a hymn born out of frustration at religious ignorance but honed with hope and reverence.

"God is love/And He loves everyone," is the "White Man" refrain. But the hooks that make this song so special (and so popular at Wild Goose) are lines such as this: "God is not a man, God is not an old man/God does not belong to Republicans" and "Atheists and charlatans, Communists and lesbians/And even ol' Pat Roberston, Oh God He loves us all."

Roars erupted from the crowd during Gungor's performance of "White Man," celebrating a new kind of holy biofuel — exuberant relief for any grief felt when we see sisters and brothers in Christ cling to the way of bigotry and intolerance.  
Returning home from the North Carolina farmland, I cued up some of the tracks I heard live during the festival to encourage my next foray into the boisterous baptism of joyful noises. Because at the Goose, listening to live music once again changed my life. I don't know how many times I can honestly claim that music changed my life, but surely it's too many to count.

There's  the first time I discovered college radio and punk rock. Or plastered my room with Xerox fliers and full-color posters. Or found my mailbox filled with cassette mix tapes packaged in hand-made art. Or wore out my bootleg VHS copy of U2's Under A Blood Red Sky.

When music changes my life, it's almost always for the better, fostering justice struggle and juicy salvation, feeding healthy rebellion and heady revelation.

As The Wild Goose fades into memory, I bask in the glow of feelings its music evoked from my cluttered past and expectant (if uncharted) future when the festival's packed venues morphed into shamanic temples with visionary prophets taking up the microphone as the sacred mantle it is meant to be.
Andrew William Smith is an English professor by day and DJ by night who works as the Faculty Head of Tree House living and learning village at Tennessee Tech. He's an activist, poet, blogger, writer/editor at Interference.com, seminarian, unlikely Sunday school teacher, and aspiring preacher. Follow Andrew on Twitter @teacheronradio
Images: Damion Suomi and the Minor Prophets via the band's Facebook page. Ric Hordinski via the artist's MySpace page. "Grown-up fan-boy" photo of the Andrew William Smith with Michael Gungor of Gungor at Wild Goose 2012 courtesy of the author.
Got something to say about what you're reading? We value your feedback!