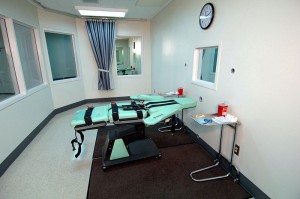 The same evening as Troy Davis was killed by the state of Georgia, Lawrence Brewer was killed by the state of Texas. Davis, for whom there was serious doubt about guilt, rightly attracted a world-wide movement of support from a roster of prominent figures to hundreds of thousands of petition signers, and there were hundreds vigiling outside the prison.
Brewer, described as a "white supremacist" who was unquestionably guilty of a brutal hate killing, was hardly noticed. He, along with two friends, had taken an African-American man, James Byrd, Jr., attached him behind a pickup truck with a log chain, and dragged him to his death. Only a small number of death penalty opponents gathered outside the prison.
But if we are to be serious about opposing the death penalty, it is cases such as Brewer's that must also draw our attention.
Although he did not attend, the victim's only son, Ross Byrd, said that he wished the state would show the mercy toward the condemned man that the killers had not showed his father. "Life in prison would have been fine," said Ross Byrd, "I know he can't hurt my daddy anymore. I wish the state would take in mind that this isn't what we want."
That is the view that all Christians should take. It is a fundamental principle of Catholic social teaching that "Every human person is created in the image and likeness of God. Therefore, every person's life and dignity must be respected