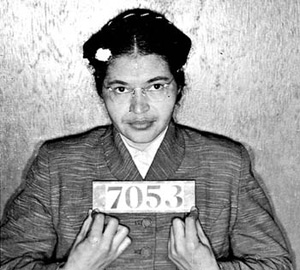 Rosa Parks would have been 98 years old this Friday, February 4, 2011. As I watch the people in Egypt march, my mind goes to her legacy. Years ago she said, ?"I have learned over the years that when one's mind is made up, this diminishes fear."
One day, on my way to Washington, D.C. to honor the 40th Anniversary of Rev. Martin Luther King, Jr.'s martyrdom, I felt God nudging me to save a seat for a woman with whom I struck up a conversation while waiting to board; I later learned she was the president of the Rosa and Raymond Parks Institute.
All it takes for real change to happen is for a few people with great courage to do great things. Rosa Parks is so often portrayed as "just" a seamstress, rather than a quiet force of nature impelled to take a stand. We don't hear that Parks had worked with the NAACP for years before, and been part of the interracial workshops at the Highlander Folk School. We don't hear that Parks worked with the Youth Council of Montgomery's NAACP in a "mighty but unsuccessful" effort to integrate Montgomery's library when she became angry that black children didn't have access to books. Galvanized by the savage murder of Emmitt Till just a few months before Parks' courageous act, people were ready to support the Montgomery Bus Boycott. But few of us know the names of any of those who refused to ride on a bus in the Montgomery Bus Boycott and who overturned an evil law -- all amazing people who joined in a revolution.
Rosa Parks is buried in Detroit, Michigan and the bus where she took a seat to take a stand is located in the Henry Ford Museum in Detroit. But if we imagine for a moment that her legacy resides in a museum, we have failed to understand her courage. Her legacy lies in the face of Nadin Koury, the 13-year-old who was bullied in Pennsylvania by boys because of his skin color and his mother's "accent" (from Liberia); Nadin did not hide in shame but focused the shame on the bullies. Rosa Parks' legacy is in every Egyptian protesting in Tahrir Square to peacefully say, "We want freedom." Her legacy is in everyone who decries the deplorable apartheid that continues to exist in educational and medical access here in the United States.
Rosa Parks said, "I always encourage those who ask how they can make a difference to consider working with young people. They have so many needs and concerns and our future, as a nation, is dependent on helping them to be their very best." So as you give thanks to God for Rosa Parks on Friday (and pray for the Egyptians), rather than just look back, by God's grace, look forward and consider Rosa Parks frequent declaration:
"As long as people use tactics to oppress or restrict other people from being free, there is work to be done."
Rev. Ruth Hawley-Lowry is a pastor in Michigan who is looking for the next place where she might "break the silence." For more information about Rosa Parks, visit www.rosaparks.org.
Send Us a Note
Got something to say about what you're reading? We value your feedback!