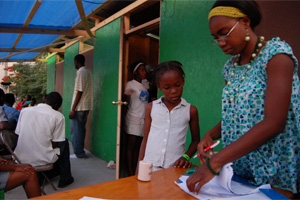 Law student Sebastien Doussous currently manages the database on a needs-assessment survey administered, just days following the Jan. 12 earthquake, by members of his church, L'...glise Communauté Evangélique d'Haïti (Evangelical Community Church of Haiti, L'ECEH).
"Within these two square miles, we gathered information on the number of people in each family, whether they've lost their jobs or not, the damage to their house, percentage of belongings lost, and medical needs," describes Doussous, student of Université Quisqueya law school, which crumbled during the earthquake.
The church currently distributes food and water to an estimated 2,050 people.
Coordinating five small camps and food distribution is in no way simple. "I'm happy to help," he says, watching over the church property as dozens of kids run around in dwindling daylight. "At the same time, frustrations come when registered recipients fight over the food, even though we have them on the list. Sometimes they challenge the authority and bring others to disturb the process, even threatening with rocks and stealing from our volunteers transporting the supplies to the other four camps."
Each night, the church's parking lot serves as a dusty mattress for as many as 500 people. Before sunrise, most men are gone. By 6:00 a.m., women and children pack up their makeshift tents of cardboard and cloth. Hundreds of kids stay there for daytime activities, and even more enticing, a midday meal.
Husband and father Nesly Petit-Frere has parked his work vehicle there each night over the last three weeks. His wife sleeps inside the cab with their two toddler sons, Jean-Wesley and Marc-Herby. "My house collapsed as well as my own church down the hill. We're trying to sleep here, but it doesn't feel secure all the time."
Petit-Frere is operations supervisor of General Maintenance S.A., a repair company of more than 150 employees in Petionville. So far, he doesn't know when work will start again. "At this point, my family and I get one meal at L'ECEH each day and stay here for the night, then drive downhill midday to Quisqueya Chapel for the next. This is home, for now."
Church administrator Fabienne Smith has been searching for more partnerships to increase the food supply they currently offer -- a daily rendering of rice, beans, and one water sachet per person on a one-month contract with the Dominican Republic embassy. Children currently receive two meals a day.
"My job is different now," Smith says, shaking her head. "I'm frustrated that the local political leadership is not making any decisions about this. But we can't wait until the government does something when there are people suffering."
She knows the camp won't last forever. "We're trying to find a place for these people long-term because they have no place to go," she says. "They can't spend their life living on the parking lot with an open gate -- there are dangers of theft or kidnapping."
At the corner of the parking lot, Dr. Ginette Privert heads a team of volunteer Haitian doctors at a medical clinic with four rooms and a tarp to shelter those waiting in line from the sun. The team served 58 clients the first day it opened.
In a congregation laden with medical professionals, it didn't take long for Privert to convince the church on the idea. Haitian doctors of L'ECEH have long been offering free services and basic training in a partner village in the countryside each month. Privert and her colleagues now plan to serve the Delmas neighborhood long-term in follow-up and preventative care.
The congregation seeks to align their faith and efforts, just as it has long before the earthquake. "As a human being, and as a Christian church in this community, we feel we have to help," says Smith.
"We not only want to help our neighborhood in the crisis," says Doussous, "but to show people who Christ is and who he can be for them."
Jacqueline Klamer is a writer with Partners Worldwide, a faith-based international business development organization based in Grand Rapids, Michigan.