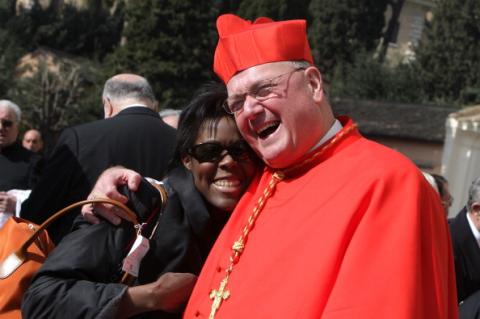 VATICAN CITY — On the eve of his elevation to cardinal, New York's Archbishop Timothy Dolan said he would like to change the caricature of his city as a modern-day Gomorra.
"New York seems to have an innate interest and respect for religion and I'm going to bring that up because I don't like that caricature that New York is some neo-Sodom and Gomorrah," Dolan told Reuters after celebrating Mass here on Friday (Feb. 17).
"I have found the New York community to be very religious and innately respectful of religion, interested in religion," he said.
After three years as the Big Apple's archbishop, Dolan was elevated to the College of Cardinals at a ceremony conducted by Pope Benedict XVI here on Saturday. He was one of 22 new cardinals created by Benedict XVI.
Dolan, 62, a Missouri native, had served as archbishop of Milwaukee from August 2002 until April 2009, when Benedict XVI installed him as archbishop of New York, succeeding Cardinal Edward Egan, who retired in 2009 at the age of 77 — two years past the mandatory retirement age. In 2010, Dolan, who had been an auxiliary bishop in St. Louis, Mo., before arriving in Milwaukee, was elected to a three-year term as president of the U.S. Conference of Catholic Bishops, succeeding Chicago's Cardinal Francis George.
Earlier on Friday, Dolan, who is known for his sense of humor, conservative values and popularity with the media in the United States, addressed the pope and more that 130 cardinals from around the world during a day of "prayer and reflection" at the Vatican.
The new American cardinal spoke of how to spread the faith in a secularized world and managed to draw laughter from his audience — including the pontiff himself — when he apologized for delivering his speech in a broken Italian: "I speak Italian like a child," he said.
Drawing on sources as diverse as St. Augustine and Martin Sheen's pilgrimage film The Way, he told cardinals that spreading the gospel must be "accomplished with a smile, not a frown."
Noting that a cardinal's red cassock symbolizes his willingness to defend the faith "even to the shedding of (his) blood," Dolan jokingly asked Pope Benedict "Holy Father, can you omit 'to the shedding of your blood' when you present me with the biretta?".
"Of course not!" Dolan continued. "We are but 'scarlet audio-visual aids' for all of our brothers and sisters also called to be ready to suffer and die for Jesus."
Vatican spokesman Rev. Federico Lombardi said Benedict praised Dolan's speech as "stirring, joyous and profound."
Baltimore's former Archbishop Edwin O'Brien, 72, also was elevated to the College of Cardinals this weekend as Grand Master of the Equestrian Order of the Holy Sepulcher in Jerusalem — a largely lay order dating to the 11th-century Crusades with more than 30,000 members worldwide. O'Brien's new position makes him the pope's official representative to the Holy Lands.
Dolan and O'Brien bring the number of U.S. cardinals alive today to 20. The new American cardinals join 125 cardinals worldwide who are under the age of 80 and therefore eligible to vote in a papal conclave — the meeting that will, when the time comes, elect the successor to Benedict XVI, who turns 85 in April.
In recent months, there has been wide speculation about Benedict XVI's health. He used a wheeled, elevated platform to enter St. Peter's on Sunday to enter the cardinals' consistory and has been using the mobility aid for several months to spare him the long walk down the basilica's center aisle for masses and other official functions. Among the newest batch of cardinals elevated by the pontiff this week were seven Italian prelates, bringing the Italian voting bloc for the next papal conclave to nearly one-in-four — and sparking scuttlebutt about the possibility that an Italian might once again ascend St. Peter's throne the next time around.
When he was elected in 1978, Pope John Paul II, a Pole who died in 2005 at age 84, was the first non-Italian pope in more than 400 years. Benedict XVI is German.
Alessandro Speciale writes for Religion News Service. Via RNS. Sojourners' Web Editor Cathleen Falsani also contributed to this report.