"My father was born by a river bed and left to die. My mother grew up in extreme poverty. They made it. I am their story, they inspire me!" These are the words of my new friend Rudo, an amazing young woman from Zimbabwe who has come through so much and has now been chosen to be one of a thousand ambassadors of the Make Poverty History Road Trip who next week are acting to make history.
From every major city in Australia, these one thousand intelligent and passionate young people will stream into the nation's capital to engage the public and help hold politicians accountable to their promises to fight extreme poverty by meeting the Millennium Development Goals.
The other Australian contributor to "God's Politics" Tim Costello and I will address this gathering in Canberra. But what I'm really excited about is being asked to mentor 100 of these amazing young people and getting to journey with them as they seek with their gifts, talents, and passions to, as Mother Teresa put it, "find their lives in losing them for others."
I wanted you to hear some of the passion and motivation from an amazing young man and musician named Jody who I have the joy of journeying with. Here are his own words about what is happening in his heart:
I'm learning that I have the opportunity to speak on behalf of the world's poor. To advocate for them and to play a role in bringing hope, joy and quality of life to many living in the developing world. We are to be God's hands and feet, to bring his kingdom and demonstrate his love here on earth. My faith in Christ motivates me to realise it's not all about me and so I try incorporate that in my life. We now know that our generation can end extreme poverty in a single generation. That Australia alone if increasing aid to 70c out of every $100 will result in saving the lives of 500 000 children every year. I am committed to being part of the movement of everyday Australians who take action to see this become a reality. What is more valuable and more worthy of my time and energy than bringing hope and quality of life to many in the developing world.
As Dorothy Day said, "Students are the ones who have always made the revolutions." With this group of inspiring students I'm looking forward to continuing to introduce them to the approaches to ending poverty taken by Dotty, Gandhi, Martin Luther King Jr., Badshah Khan, Vandana Shiva, and above all, the alternative economics of Kingdom grace, that these heroes of mine point to. As my mate Ash Baker puts it from the slum he's moved into in Bangkok, our invitation is to "Make Poverty Personal." By making poverty personal we can start to voluntarily make affluence history.
Here's another great recent video from www.workofthepeople.com with Jonathan Wilson-Hargrove articulating just that.
Want to encourage these amazing young people? If you'd like to follow what's happening on the Make Poverty History Road Trip, the Twitter tag is "#mphrt ". If you'd like to encourage these amazing young people take just a moment to visit here. And if you are looking for some way into "making poverty personal" please visit our friends at One Day's Wages.
Lord, continue to break our heart for what breaks yours. Amen.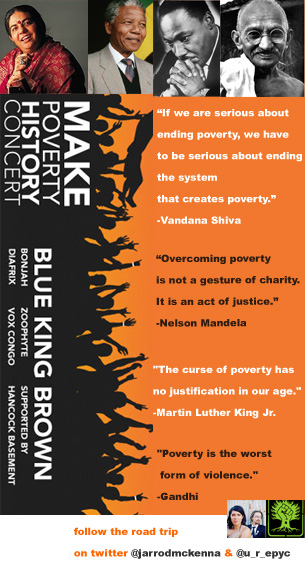 Jarrod McKenna is seeking to live God's love in a world where business as usual is costing us the earth (at the expense of the poor). He is a co-founder of the Peace Tree Community serving with the marginalised in one of the poorest of areas in his city, heads up Together for Humanity in Western Australia (an inter-faith youth initiative working for the common good), and is the founder and creative director of Empowering Peacemakers (EPYC), for which he has received an Australian peace award in his work for in empowering a generation of "eco-evangelists" and "peace prophets."