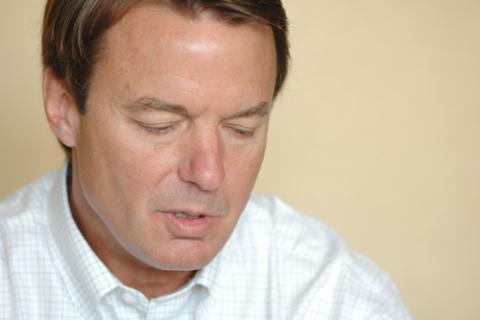 The first time I met John Edwards was in the summer of 1997. He was in Charlotte "for a little case we have in Mecklenburg" and called and said he wanted to talk with me. The year before, I won the Democratic Primary for Congress in the 9th District, and he wanted to tell me of his plans to become the next United States senator from North Carolina in the 1998 election.
We got together on a humid mid-afternoon in the restaurant of a SouthPark hotel, and for about 90 minutes — from start to finish — he listened as articulately as he spoke. He asked broad, open-ended questions but with a focused clarity. He didn't dodge a single question of mine, answering softly but with a direct intensity that I could not perceive as anything less than absolute sincerity.
At the end of the discussion, he graciously accepted my explanation that, despite my eager willingness to share any thoughts and insights he might find helpful, my support (for whatever it was worth) was going to my long-time friend D.G. Martin.
The young senator: A rising star
Before we parted, we talked about the law and his "little case" that, of course he knew was anything but. It involved a very significant injury to a baby at birth due to a medical error. He explained he was at the hotel to conduct two "mock trial" focus groups that evening. Before I could ask, he volunteered: "Do you want to sit in?" I joked back, "Is this a trick question?" Of course I said yes, and that evening I learned more in jury persuasion and trial techniques than I had in all my previous continuing legal education courses combined.
A year later, John went on to defeat my friend D.G. in the 1998 Democratic primary and then upset the Republican incumbent Lauch Faircloth that fall. Sparked by the immediate leading role he played as a great voice of reason in the Senate trial of President Bill Clinton, his rise to national prominence could only be described as "meteoric."
While he and I have spoken and seen each other many times since then, I do not pretend to be a close confidant or in any way a part of his inner circle.
One time in particular, I remember seeing him at a reception during his Presidential run in 2004. It was the night of his South Carolina primary victory. We chatted about Charlotte, and the fact that Hootie and the Blowfish were going to play at his victory celebration a little later. Then I asked him a question, and to this day I'm not sure where it came from: "How are you staying centered?"
He began to answer, and then paused, and seemed to really think about it.
"I try to find a little quiet time every day. I try to run just about every morning. And I have a close circle of friends that I really try to stay in touch with."
He seemed, I think, to enjoy having the opportunity to answer such a question.
On this past Memorial Day weekend, 15 years after that very first meeting in a hotel restaurant in SouthPark, I think about John Edwards, and wonder at what point (points?) did he lose his center. Federal prosecutors dropped all charges against him last week, but he continues to fill headlines as his mistress makes the media rounds promoting a memoir about their affair.
If "meteoric" is the word to describe his rise to national prominence, I'm still looking for a word to fully describe his fall.
Mike Daisley is a lawyer in Charlotte, N.C.