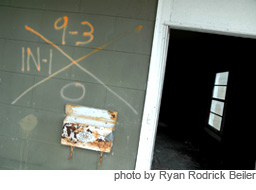 I am a native of Biloxi, Mississippi. To the rest of the world, we are the left behind communities. I thank God on a daily basis that I have the family I have. My father was a Baptist preacher that walked the walk and not just talked the talk. That is a rare jewel that we as people don't see a lot of. We have people say things with their mouth but the action doesn't follow. I call that being unreal and unjustified people.
It is so simple to believe what God is saying and has been saying all along: "Whosoever believeth in me will have everlasting life." People ask me on a daily basis, why are you doing this, it's very hard work. And having been to school for this community organizing, my answer to them is that God put me here to serve and to help. I'm only following the script that was scripted for me.
I think about returning home to have nothing in a form of a house or the community I once knew. I felt empty because all of my memories of my family were washed away in the Gulf of Mexico. It's not just the things; it was the journal of my father and family that I had carefully written for years and was now gone.
We need all people to care about the neighbor. My philosophy is if my neighbor is hungry, I shall not eat. Do we realize how powerful that is? We as a people must open our hearts to all people. If we would take on that concept, we all could eat and live in harmony. But it takes all of us to spread the word. We must end poverty for all our people by having self-accountability.
I know that God wants us to help othesr as we help ourselves through his word. We are only poor if we allow ourselves to dwell in it. If I have family, I'm rich, you understand. I'm poor to the outside world because I do not make a living wage, and I do not have insurance. But I am a child of God and he will provide. I have faith in God's word. He does not lie.
Sharon Hanshaw is the executive director of Coastal Women for Change and will be leading a workshop at the Mobilization to End Poverty.