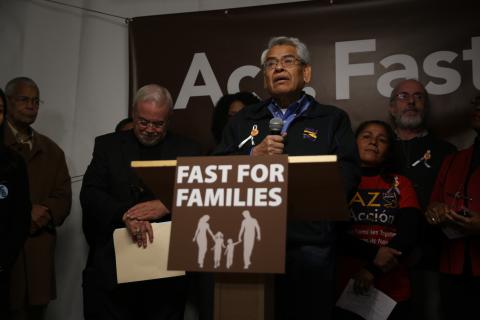 You probably haven't heard of Sioux County, Iowa — but if you're ever on a flight from Boston to Los Angeles, you'll fly right over us and know you're at the midpoint of your trip. We're just about exactly in the middle of the country.
But aside from U.S. geography, Sioux County isn't often known for being in the middle. We're found in the 4th congressional district of the state — the constituency represented by Steve King, where close to 80% of our electorate is Republican.
Recently, Sioux County, Iowa was blessed with the visit of Eliseo Medina, a hero in immigrants' rights movements for over 40 years. Eliseo was a key part of the farmworkers movement and went on strike with Cesar Chavez. He served as a board member of United Farm Workers from 1973 to 1978.
At the Sioux Center Library, approximately 130 people gathered, overflowing the room. College students and professors, church members, and Latino workers congregated to listen to a prophetic voice calling in the wilderness for God's justice to the powerless and voiceless in our midst. Congressman King was invited but did not attend.
Eliseo shared his story and talked about the moral need for immigration reform — families are being torn apart due to deportation and a broken immigration system. Every day more than 1,000 deportations take place.
"When a parent is deported, should the children leave?" Medina said. "Should they be left to foster care?"
Further, more than 400 people die crossing through the desert every year. Their relatives may never hear anything from them again.
This is a humanitarian crisis many are ignoring. Coming from an immigrant family, I am deeply concerned and aware of the systems of oppression and violence that push people to leave their home communities.
Medina recently fasted in Washington, D.C. for 22 days to raise awareness of the need for immigration reform.
Because of his emblematic actions, the press dubbed him "the man who saved immigration reform." The Los Angeles Times described him as "one of the most successful labor organizers in the country" and was named one of the "Top 50 Most Powerful Latino Leaders" in Poder Magazine.
"Faith can move mountains", Medina said. And that's what he's aiming to do. During this season of Lent, Eliseo and other immigration advocates will be engaging in an intense spiritual practice of fasting and praying in association with the Fast 4 Families campaign.
Truly, faith is a powerful catalyst for social movements. In contemporary history, civil resistance has been often accompanied by an intense justice-seeking spirituality. Martin Luther King, Jr., drawing from the Old Testament prophets, had a dream. This dream in the Civil Rights Movement — along with the endeavor and collaboration of many others — resulted in the end of racial segregation. Although the dream has yet to be completed, it was a historic landmark for minorities in the twentieth century.
However, the fast is about more than praying: it's about bringing people together.
Rev. Gianni Gracia, pastor of Amistad Cristiana — the local Spanish-speaking Reformed church — and another speaker at the event, reminded us about the importance of community.
"Very few times do we have events where both a significant population Anglos and Latinos convene," Gracia said.
The socio-ethic fragmentation combined with ignorance and prejudice is what hinders many to advocate for the justice our 11 million undocumented immigrant neighbors deserve.
As Zachariah 7:9-10 says, we should administer true justice and show mercy and compassion to one another. We should not oppress the widow or the fatherless, the foreigner or the poor.
This fast is a call to practical solidarity to rescue the voiceless and vulnerable in our communities. Summoning as many voices as possible, we can engage in God's mission, collaborating with God's service: God, with righteousness, will judge the needy; and with justice God will give decisions for the poor of the earth (Isaiah 11:4).
The willingness to reach out, pray, listen to the stories of the powerless, and join efforts to demand immigration reform now is what we need to move the mountains — and borders — if we only have faith like mustard seed.
We can envision justice run down as waters and righteousness as a mighty stream. We can proclaim freedom ringing from Los Angeles to Chicago, from Tucson to Sioux County. All at once, let's come together for the common good of our immigrant neighbors!
Adam Ramirez is a philosophy major at Northwestern College in Orange City, Iowa. He is originally from Mexico.
Send Us a Note
Got something to say about what you're reading? We value your feedback!