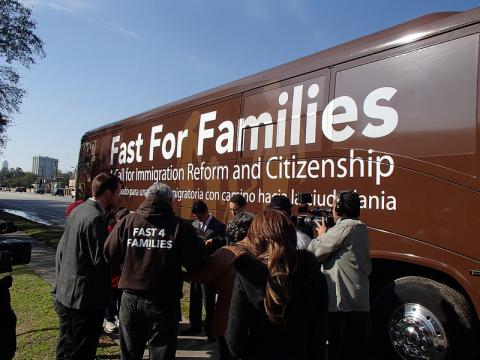 Building on the momentum from last year's fast on the National Mall, the #Fast4Families campaign has entered into its next phase: a cross-country bus tour. Keeping with the theme "Act; Fast; and Pray until just immigration reform is achieved," #Fast4 Families kicked off its national bus tour on Jan. 27 from California, where hundreds gathered in support.
The tour across America includes two buses heading through approximately 155 cities in more than 75 congressional districts on northern and southern routes. At each of these 100+ stops, fasters will engage with pro-reform advocates, including faith leaders, who are keenly aware of the moral crisis caused by our broken immigration system.
#Fast4Families is joined by more than 50 sponsors on this national bus tour who are urging Congress to enact fair, commonsense solutions. Since its launch, the faith community has been an integral part, as local leaderslike Salt Lake City Catholic Bishop John Wester join to urge action on immigration.
"Our country has been founded by immigrants, has a history of welcoming and integrating immigrants and we will continue to be great as we acknowledge our heritage and be a nation whose shores are a welcome beacon for those on the move," Wester told KSL.com.
Last week, as a time of prayer and reflection began for many Christians with Lent, people around the country have committed to fast each Wednesday through the Lenten season in solidarity with fasters to build momentum on the issue.
Eliseo Medina, a leader in the Service Employees International Union (SEIU), fasted for 22 days while leading the #Fast4Families in Washington, D.C. and believes fasting can have a profound effect on those watching.
"Fasting is a way to engage people in a non-threatening manner," Medina told the Los Angeles Times. "When you're marching or picketing, it's confrontational and people go on the defensive. Fasting says, 'Here's what I believe, here's my faith, and I feel so strongly about it that I'm willing to sacrifice.' When that happens, people take a different attitude. It makes them begin to examine their own principles and values."
This week, as Eliseo and other fasters continue their trek across the country, they will stop in Oklahoma, Colorado, Arkansas, Minnesota, and Louisiana.
To get involved, make sure to follow their route closely and take action by pledging to fast and pray for immigration reform. Also, you can call your member of Congress to support commonsense immigration reform. To get as many people as possible to fast in solidarity with the Washington, D.C. fasters, fast in large groups in public places, so we can bring attention to this important issue. Most of all, you can tell your loved ones, family, and friends about the moral crisis caused by the broken immigration system and raise public awareness of the suffering and sacrifice immigrants face in our country. As we remember MLK's words, let us not forget that each action makes a huge difference: "If I cannot do great things, I can do small things in a great way."
To find out information about a #Fast4FamiliesAcross America event close to you, please visit the events page on the Fast for Families website.
Stay tuned for a weekly update on the tour on our blog.
Shakei Haynes is Campaigns Assistant at Sojourners. He majored in Political Science at Howard University and is currently a student at Wesley Theological Seminary pursuing his Master of Divinity.
Photo: Fast for Families / Flickr