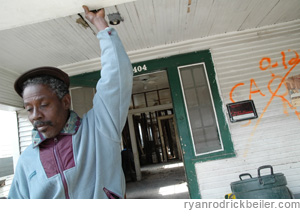 President Obama arrived in New Orleans last week for his first visit to the Gulf Coast since he won the presidency. In a letter released to coincide with his visit, more than 50 leading religious leaders and faith-based groups called on the Obama administration to take action to address challenges in the region.
Faith and community leaders cite "significant gaps" towards meeting federal promises to Gulf Coast communities, and urge the president to focus on long-term hurricane recovery policy to tackle poverty, coastal erosion and climate change, according to their press statement.
As the Institute for Southern Studies explored in our 2008 report "Faith in the Gulf" [pdf], following the failed federal response to the 2005 disaster, it was community, nonprofit, and faith groups that mounted an unprecedented response that made them the go-to resource for tens of thousands of storm victims in the aftermath of the hurricanes.
The letter was organized by two such Louisiana-based interfaith coalitions -- All Congregations Together (ACT) and Bayou Interfaith Shared Community Organizing (BISCO). Mary Fontenot, executive director of the New Orleans chapter of ACT, told Facing South that many faith and community leaders are very optimistic that Obama will hear their calls for action. ACT was one of the groups that helped to coordinate two of Obama's prior visits to storm-ravaged communities like the Lower Ninth Ward in New Orleans following Katrina.
"When he was here last Obama made a commitment, a promise to us that he would be with us in rebuilding," Fontenot said. "We know he is sensitive to the needs we still face in the region, but we will hold him accountable to his promises and do our best to partner with him to make sure the region's needs are being met."
The signers include Rabbi Steve Gutow, Jewish Council for Public Affairs; Rev. Dr. Michael Kinnamon, National Council of Churches; Sayyid M. Syeed, Islamic Society of North America; Sister Simone Campbell, NETWORK, A National Catholic Social Justice Lobby; Bishop Charles E. Blake, Church of God in Christ; Bishop Katharine Jefferts Schori, The Episcopal Church; Dr. Joel C. Hunter; Nancy Ratzan, National Council of Jewish Women; Rabbi David Saperstein, Religious Action Center of Reform Judaism; Rev. Jim Wallis, Sojourners; and Rev. Dr. Sharon E. Watkins, Christian Church.
The letter also urges President Obama to look to a bipartisan bill, HR 2269, the Gulf Coast Civic Works Act, as a model for recovery policy. As Facing South reported, the legislation, inspired by New Deal public works projects, would create some 100,000 environmentally-sustainable jobs and training opportunities on the Gulf Coast that would allow residents and displaced people to rebuild critical infrastructure in their communities and restore natural coastal flood protection.
Click here to read the full text of the letter to President Obama.
Desiree Evans is Research Associate and Co-Editor of Facing South at the Institute for Southern Studies.