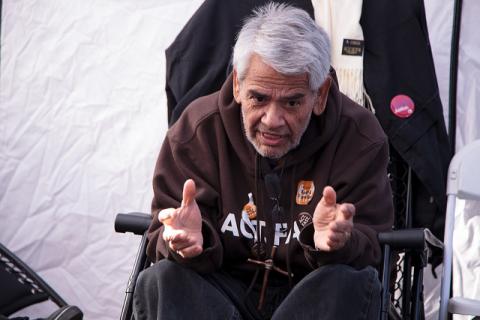 As an immigrant who made the long journey from Zacatecas, Mexico, to the farmlands of California many times as a child, the Lenten story of Jesus's wandering for 40 days in the desert has always resonated with me very deeply. And the Easter celebration that follows sustains my hope and resolve that the faith community's long movement to reform our broken immigration system will succeed.
Late last year, I, along with several other immigration advocates and inspiring faith leaders, camped out in a tent on the National Mall in Washington, D.C., to call attention to the moral crisis and human suffering caused by our broken immigration system. We asked ourselves: What are our faith, our words, and our history worth if not translated into action, sacrifice, and redemption?
So, for 30 days we fasted and prayed that leadership in the House of Representatives would follow the Senate's lead and pass a comprehensive, bipartisan immigration reform bill. The power of prayer surrounded us as we were led in reflection on a daily basis by pastors who serve undocumented families, by immigrants who suffer under our unjust system, and by public officials who came to see our commitment as days without food turned into weeks.
Even though the House refused to act in 2013, we believe that our fast, and the support of thousands of solidarity fasters around the world, helped change the discussion about reform from one of dollars and cents to one about people and families. Our sacrifice and the suffering of our immigrant brothers and sisters will end in victory and redemption.
After all, this isn't about politics. It's about justice and compassion for the vulnerable and the newcomer in our midst. And it's about families — grandmothers and grandfathers, mothers and fathers and their children. It's about keeping families together and giving millions of aspiring Americans a chance at citizenship.
After we folded up our tent on the Mall, we didn't go home. We took our movement on the road across the country with a bus tour, "Fast for Families Across America," to hundreds of American communities to empower people of faith to act, fast and pray for immigration reform.
Our two-bus tour stretched from Los Angeles to Washington, D.C., traversing more than 100 congressional districts – both Republican and Democrat.
On the road, I met thousands of people who carried stories of their immigrant past and present. In North Carolina, a young woman spoke of her husband who had been detained when a policeman stopped him for a broken headlight. Any other person would probably have received a warning, but this father of two now awaits his future in detention. While he waits, many more face harrowing journeys in the desert to reach the arms of their families.
And yet, some politicians in Washington, D.C., still say we must "wait" for immigration reform.
The waiting they call for isn't the patience for a soon-to-come victory, like the hope with which we await resurrection. Their waiting is the same patience that oppressors begged Dr. King and Gandhi and Cesar Chavez to exercise. We will not wait with patience and complacency as families are divided by deportations, students are trapped in limbo, and workers are brutally exploited and relegated to invisibility.

We rise with them and declare our moral obligation, grounded in the words of God spoken through the prophets, to move the compassion of elected leadership in the House, and to inspire a resilient movement to cease the deportations, suffering, sorrow, and fear and usher a new structure of laws for the good of our country and the sake of our values.
As we wait for Congress to pass immigration reform, far too many immigrants are perishing in the desert, and thousands upon thousands of families are being torn apart by deportations. These injustices must end.
We believe that Congress has the moral obligation to stop the human tragedies that immigrant families suffer every day. No more excuses or roadblocks. It's time to pass immigration reform with a path to citizenship now.
Eliseo Medina is the leader of Fast for Families and a leading immigration reform activist and labor organizer. He is former International Secretary-Treasurer for the SEIU.