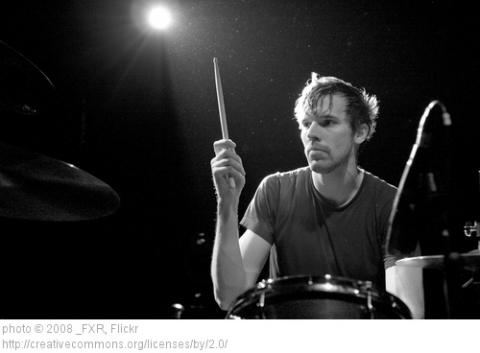 WEB EXTRA: BONUS 'BLUE LIKE JAZZ' AUDIO
Blue Like Jazz has got a leg-up in the alternative world. Two years back Paste ranked it #18 in its "20 Best Books of the Decade." The film just finished up its debut run at SXSW and it features a soundtrack that's largely the brainchild of the Portland indie rock outfit Menomena.
Steve Taylor, director of Blue Like Jazz, tells Sojourners that the music of Menomena served as the muse for the storytelling, and that he was "trying to find a soundtrack of what a Reed student might be listening to."
Enter: Danny Seim. The drummer, singer, and founding member of the Portland duo Menomena was Taylor's first (and only) choice to score the movie. And it fits the film pretty well. Seim's multi-instrumental garage-rock styling captures the exotic flare of fellow Portlandiers, The Flaming Lips, but channels out to build poppier rhythms and harmonies that yield something wholly their own. In a few words, Menomena captures the sounds of an edgy, diverse, and cultured city.
Menomena began in 2000 as an outpouring of Seim's solo project Lackthereof. Since its inception, the group has released four full-length records (with a fifth releasing this spring). In 2006 they signed with Barsuk Records, which elevated their name alongside label-mates Death Cab for Cuite and Nada Surf. With their debut release on Barsuk, 2007's Friend and Foe, they've been hailed by everyone from Pitchfork to Rolling Stone to NPR.
Working with Blue Like Jazz, Seim draws from songs across Menomena's spectrum to craft a soundscape that fuels the film. The score intersplices music from Friend and Foe and 2010's Mines, and also includes bits from Seim's solo offerings in Lackthereof. And to tie it all together, Seim weaves a chorus of instruments to connect the various melodies.
And the creators of Blue Like Jazz couldn't be more pleased. They write on their website, "Music within a film will build tension, create emotion, and is paramount to the viewer connecting with story… [Seim's] style and personality fits indie music, Portland, and Blue Like Jazz so perfectly."

Take a look at Menomena performing one of the songs featured in Jazz, "TAOS" on Pitchfork TV.


Joshua Witchger is an online assistant at Sojourners.
Send Us a Note
Got something to say about what you're reading? We value your feedback!