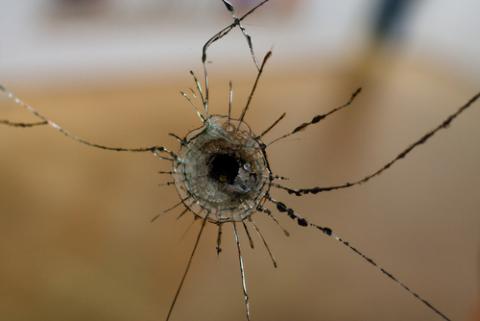 Violence does not equal power.
Martin Luther King, Jr., understood this. Yesterday was King's 84th birthday. This year the national holiday to honor him will coincide with President Barack Obama's second inaugural ceremony. And, all of this happens in the wake of one of the worst mass shootings in the nation's history. One month after the shootings at Sandy Hook Elementary School in Newtown, Conn. — which left 20 children and six adults dead, plus the killer's mother, found dead in her home — the country grapples with the issue of gun violence. If the country is to come to consensus on the issue, we will have to distinguish between violence and power.
Vice President Joe Biden gave recommendations to the president regarding gun safety on King's birthday. The questions the media are asking already abound: What recommendations can the president implement through executive order? Can an assault weapons ban pass Congress? Will victims and gun safety advocates be able to persuade Congress to pass meaningful legislation?
There will be varying interpretations of the Second Amendment, and there will be some who will argue that guns are necessary for self-defense. We will have the discussion as to whether or not the gun culture in the United States has taken on religious proportions. I have written about the idolatry of the gun elsewhere.
For now, let us think about whether or not owning a gun, a weapon of death and destruction, gives us power. There are at least two dimensions to power — the ability to affect a certain outcome and the capacity to withstand outside pressure or to bear a burden. I say gun violence is not power. Thus, a gun does not give one power. A gun can kill a person' physical self, but it cannot kill the spirit. It cannot kill an idea. Its ability to affect long-term change is negligible. A gun cannot protect us from tyranny when the tyranny is question is the tyranny of fear.
We confuse violence with power when we think of the coercive power of the nation-state and understand the necessity for it to hold a monopoly on the means of perpetrating violence. We obey the laws of the state because the state has the power to take away our property, liberty, or life. Yet, we also live together through a social contract because it makes sense to us. We live within the idea of mutual cooperation and mutual benefit, of sustenance and joy for all.
We honor Martin Luther King, Jr., because of his commitment to nonviolence and for his ability to articulate a dream of justice and equality both in the United States and across the globe. He put into words a faith in America. He said: "With this faith we will be able to transform the jangling discords of our nation into a beautiful symphony of brotherhood." He taught that soul force was more powerful than physical force.
The civil rights movement was tactically and strategically nonviolent. King believed that only nonviolent means could bring nonviolent ends. The movement was opposed with extreme and relentless violence — shootings and bombings. However, the violence did not preserve legal apartheid in the United States nor could it stop the spread of the franchise through voting rights. Nonviolence produced its desired effect.
The parents of the young children killed in Newtown have called for a public conversation on gun violence. Let us conduct this conversation with an eye on the King's dream and not on our dystopian fears.
Dr. Valerie Elverton Dixon is an independent scholar who publishes lectures and essays at JustPeaceTheory.com. She is author of Just Peace Theory Book One: Spiritual Morality, Radical Love and the Public Conversation. She received her Ph.D. in religion and society from Temple University and taught Christian ethics at United Theological Seminary and Andover Newton Theological School.
Photo: Kaygorodov Yuriy / Shutterstock.com