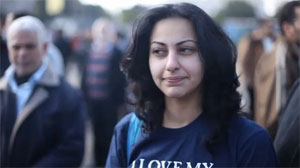 There's been a lot of fascinating coverage of the protest in Egypt today. Here's a round up of links and videos you may have missed:
"Recent reports offer evidence of another success of this popular struggle -- an adherence to nonviolent discipline. Although mainstream media are reporting looting and crime, street reports and citizen interviews offer another picture -- a series of local, alternative institutions being established by citizens in the absence of a functioning police force. Egyptians have put together neighborhood watches and protection committees to guard homes and neighborhoods and prevent street crime and vandalism of historic sites. Where government institutions are absent, ordinary people are stepping in." --Vanessa Ortiz
"The atmosphere in Tahrir is festive and exhilarating. The army has tanks and armed soldiers, but they are friendly to the protesters, and many people take photos with them. At night, long after curfew, the mood is especially celebratory: people have campfires and sing songs, and everybody wants to give interviews and denounce Mubarak." --Nicholas Kristof (read continued coverage from Egypt on his blog, On the Ground)
"Mr. President, the people on the Arab streets have heard your call and responded. Egyptians on the streets of Alexandria, Suez and Cairo are willing to risk their lives because they trust you will do the right thing. This is why you become president: for the moments when hope and history rhyme." --Eboo Patel
"In one news report, I saw protesters holding bullet shells and tear gas canisters used against them by Egyptian security forces that were - yes - "Made in the U.S.A." Why, in a time of deficit which members of Congress have been eager to point out, have U.S. taxpayers given Mubarak $1.3 billion each year, mostly in military aid? The U.S. government has supplied the dictator's weapons of repression for these many years because he provided "stability" and was always loyal to our "interests." But exactly whose interests? Not the Egyptian people's interests, apparently." --Jim Wallis
"Yesterday, there were protesters in Cairo who chanted to the police bearing down on them, 'We are all Egyptians!' At least one senior police officer

has said the same thing

. As people around the Middle East join in what is sure to be an historic day tomorrow, may they remember that they need no guns, or rocks, or bombs to show their power and make it felt. We are with you. The world is watching what you do and hoping that you succeed." --Nathan Schneider of Waging Nonviolence.
And finally, a young Egyptian woman explains why she is protesting:
Jeannie Choi is Web Editor at Sojourners.
Got something to say about what you're reading? We value your feedback!