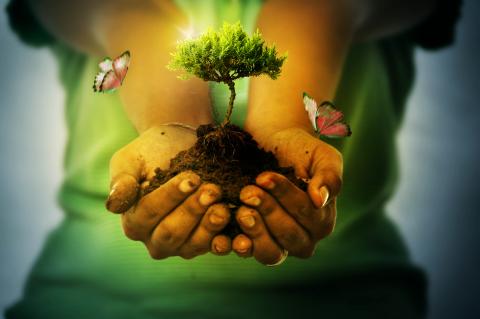 As a Pro-Life Catholic Mother of three beautiful children, I was surprised by the joint statement released by The Cornwall Alliance about the Rev. Mitch Hescox and the Evangelical Environmental Network's mercury campaign. I was shocked when the Cornwall Alliance joint statement declared the definition of Pro-Life as merely an "opposition to a procedure that intentionally results in dead babies."
I am an ardent Pro-Life and Children's Environmental Health Advocate. In the Cornwall Alliance statement they note that "most environmental causes promoted as pro-life involve little threat to human life itself, and no intent to kill anyone." I have spent the 6.5 years researching environmental toxins and their impact on our born and unborn Children's health. The toxic environmental exposures, like mercury, are directly linked to many life ending, life threatening or life altering diseases in our children.
Here are just a few statistics on Childhood illnesses that are either triggered and/or exacerbated by environmental toxic exposures:
1 in 3 American children have Allergies, Asthma, ADHD or Autism
CDC reports that childhood cancer incidence continues to rise
Girls are entering puberty years before previous generations-breast development beginning at the age of 7: increasing their risk for reproductive and breast cancers.
Male infertility appears to be on the rise, and studies suggest that more boys are being born with genital malformations.
Chronic Childhood illness statistics continue to rise.
The Cornwall Alliance statement adds:
"This doesn't mean we should ignore environmental risks. It does mean they should not be portrayed as pro-life. Genuinely pro-life people will usually desire to reduce other risks as well " guided by cost/benefit analysis. But to call those issues 'pro-life' is to obscure the meaning of the term."
I believe we've heard similar "unplanned pregnancy" arguments from the Pro-Choice movement. Genuinely pro-choice people will usually desire to reduce abortion incidence as well- guided by cost/benefit/convenience analysis. Does the concept sound familiar?
At what point did the Pro-Life movement start analyzing the sanctity of life on a cost/benefit scale?
If we're going to determine the importance of protecting our born and unborn children's health in dollar and cents: On May 4, 2011 the Mount Sinai School of Medicine researchers revealed the estimated costs on Environmentally-Induced Childhood Disease at $76.6 Billion.
The Mount Sinai site states: "The researchers found the annual cost in the United States to be an estimated $76.6 billion, representing 3.5 percent of all U.S. health care costs in 2008. The breakdown includes: lead poisoning ($50.9 billion), autism ($7.9 billion), intellectual disability ($5.4 billion), exposure to mercury pollution ($5.1 billion), ADHD ($5 billion), asthma ($2.2 billion), and childhood cancer ($95 million)."
Dr. Trasande also reviewed an earlier study of 1997 data, which was conducted by Philip J. Landrigan, MD, and documented $54.9 billion in annual costs for Childhood diseases associated with environmental toxins in the United States.
Marilyn Musgrave, a joint statement signer and Vice President for Government Affairs of the Susan B Anthony List, said, "As a pro-life leader I am amazed that some in the far left environmentalist movement would try to hijack the term 'pro-life' and use it to further their agenda. It is my life's call to speak for those who cannot speak for themselves and work to end abortion in this country. The term pro-life has profound meaning and should not be used deceitfully in this way."
As a pro-life Catholic Mother, I am amazed that I am being accused of being a part of the far left environmentalist movement with the implied insidious goal of hijacking the term 'pro-life' to further my agenda. I am acting according to God's will for me to be a voice for our born and unborn children. I work tirelessly to defend and protect God's children from abortion and environmental toxins. I do this because I've been called to do it. I am not making a statement to protect my major donors' profit margin. There is an agenda here, but it's not mine.
The term pro-life has a very profound and personal meaning to me. I would never use it in a deceitful way. I had an unplanned pregnancy and I chose life. I never saw my daughter as a 'choice' because I believe in the sanctity of all life- from conception to natural death. I saw her as a gift from God. I can look into my daughter's eyes and see the gift that God gave me, but I can also see pain"real pain. My children's health was harmed by environmental toxins. I look into my children's eyes and I see the gifts from God and the damage done by greed, ignorance and negligence.
I look into their eyes and I can see God's Grace and what human political posturing and polarization does to our born and unborn children's health. I look into their eyes and I can see God's will and how adults have failed to protect them. I can look into their eyes and see God's pure love and human egos, labels, preconceived notions and reckless, territorial-sanctimonious rhetoric that is threatening the health of our unborn and born children. I can look into their eyes and see God's plan and what we should be doing together"as one--to protect His most valuable and vulnerable population, His children. The only agenda that I follow is God's agenda.
What would you do if your children's health was damaged or threatened by environmental toxins? Would you continue defend and protect the industries that donate to your organizations or your child?
As a Catholic, I believe that we have a moral obligation to protect God's children and creation. As a Mother, I can't silently watch our most vulnerable and valuable population, our born and unborn children, losing or fighting for their lives through abortion or environmental toxins. It's a matter of life.. I am Pro-Life!!
Kristen Hayes-Yearick is the founder of Protecting the Sanctity of All Life Movement