In the second attack in two days, AFP reports that a U.S. drone strike killed at least three people early today in a building in the central market of Miranshah, the main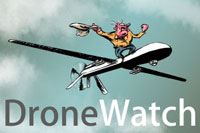 town in North Waziristan near the Afghan border.
"A US drone fired two missiles on the first floor of a shop in the main market and at least three militants were killed," a senior official told AFP. … "When the first missile hit the building, I heard cries for help and ran towards it, but militants stopped me at a distance. When they started rescue work, another missile hit," a local tribesman said about Thursday's strike. "I eventually saw them removing three burnt bodies in a really bad shape. They were put in wooden boxes and taken away."
Got something to say about what you're reading? We value your feedback!