The Associated Press reports: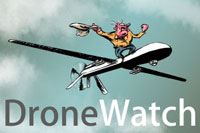 "The White House's semiannual report to Congress on the state of U.S. combat operations abroad, delivered Friday, mentions what has been widely reported for years but never formally acknowledged by the administration: The U.S. military has been taking "direct action" against members of al-Qaida and affiliates in Yemen and Somalia.
The report does not elaborate, but "direct action" is a military term of art that refers to a range of lethal attacks, which in the case of Yemen and Somalia include attacks by armed drones. … The report applies only to U.S. military operations, including those by special operations forces — not those conducted by the CIA."
Another step toward greater transparency, which can hopefully lead to greater accountability.
Got something to say about what you're reading? We value your feedback!